If you ever get the opportunity to check out Annapolis, Maryland, DO IT. This city has a historic downtown providing amazing fresh seafood from the Chesapeake Bay, fun shopping and features the annual United States Sailboat Show at it's City Dock. We've enjoyed this festival the past two years and will be one we always consider attending each year.
Here are some of our favorite parts of our Annapolis Visits –
1. Chick & Ruth's Delly – This Delicatessen has an incredible array of menu items for any meal of the day. We've enjoyed breakfast there on each of our visits because of their amazing reputation and infamous jumbo lump crab cakes. My personal favorite is their Jumbo Lump Crab Cake Eggs Benedict (pictured below) but Tharon always goes with something more meatier. Check out their website & other menu items here -> Chick & Ruth's Delly <-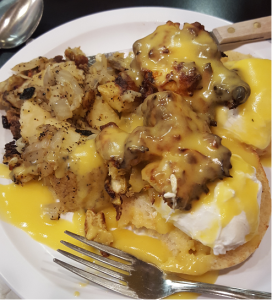 2. Sailing – Although we have not officially sailed this area, it has a prominent sailing community and is the reason why we've attended the US Sailboat Show the past two years. They showcase a variety of sailing vessels, vendors of all nautical sorts, and visitors from around the world networking around their sailing lifestyle. It is an incredible experience and continues our dreams of our own sailing adventures.

3. Hendrick's Gin – We're a fan of Gin but Hendrix Gin is an oddity like no other. They are a premium gin infused with rose and cucumber and host some of the strangest promotional events I've seen in the adult beverage industry. The experience is unusual and delivers multiple delicious cocktails showcasing the smooth taste of Hendrick's Gin. This year alongside a hot air balloon attendant, I learned to spin a plate on a pole and perform like I was in a circus. Our favorite cocktails include La Luna, Cucumber Southside, Flora Dora and an Unusual Negroni (made in the drink contraption you see above in out pics). All their recipes and more about them can be found here -> Hendrick's Gin <-
If you need more suggestions or have some for us, leave us a note. We'd love to hear form you!