We had an amazing day exploring Rogue River Park in Belmont, MI. This park has always been one of our favorites and would have been an amazing day to kayak as the weather was perfect and the river was flowing strong. My car does not have a hitch so we couldn't haul the kayaks today but am so glad we could go enjoy the beautiful scenery as we treated the dogs to a long walk. Here are some pics from our hammock, hiking, dog-walking adventure.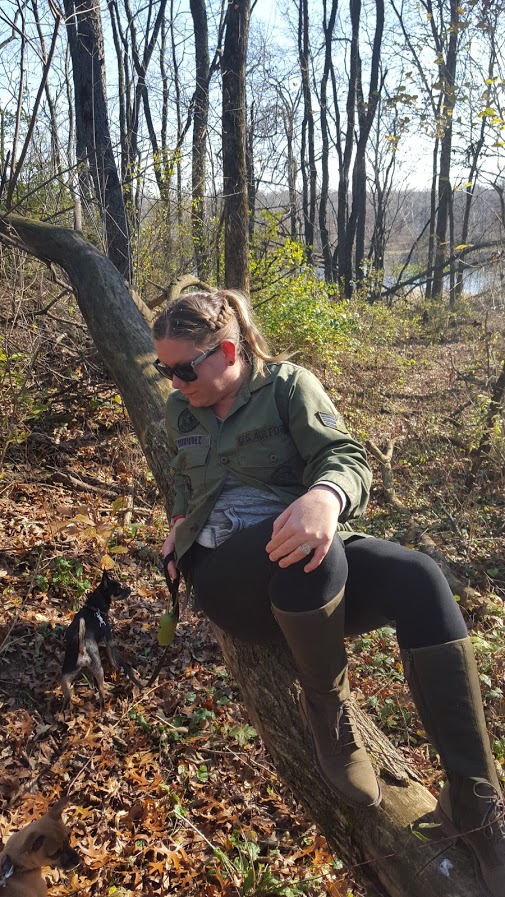 Took the dogs (and Tharon) off the beaten path through the woods of Rogue River Park. This is such a beautiful park that was FULL of dogs this sunny Autumn afternoon. I have to mention how honored I am to wear Tharon's Dad's U.S. Air Force Jacket. Both our Dads served and it's really fun to have this piece of clothing to take pride in what they've done to give back to our country. Thanks Dads!
The dogs were super thirsty after the tour we took them on & loved having the fresh river water to enjoy!
Here's us posing some fun shots in the wilderness, haha. These were pretty candid but turned out good! We were excited about our new pairs of shoes from the Wolverine World Wide Tent sale, check out what we we're hiking in,  Mary – Saranac Lace High Boots and Tharon –  Moab Mid GORE-TEX Hiking Boot
Jake and I hammocked for a while and it was glorious. It felt good to enjoy the cool breeze alongside the warm sun and really relax from a busy weekend before the start of the work week. Jake loved being in the hammock and felt spoiled being elevated above to see the fly fishermen, being above Elwood, and just in general being on my lap instead of Tharon 😉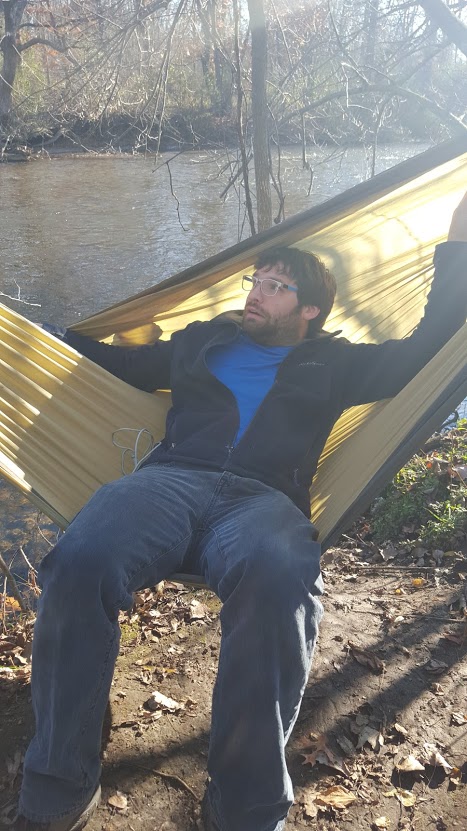 Tharon was mostly scared of being in the hammock as it was on two smaller trees, haha!
Thanks for checking this post out, we love sharing our adventures with you! Leave a comment or let us know how you're enjoying these beautiful Fall days. We appreciate your feedback 🙂