A few weeks ago, Mary and I traveled to Ovid, MI to enjoy some beer while making beer with the Bros & Dad. We enjoyed a perfect Fall day drinking a variety of microbrews and giving our best effort in making a Milk Stout for the colder seasons.
We gathered our Beer kit from O'Connor's Home Brew Supply and went with their Moo Stout recipe. Typically we will make our own recipe but these are a great option when you're on a time crunch.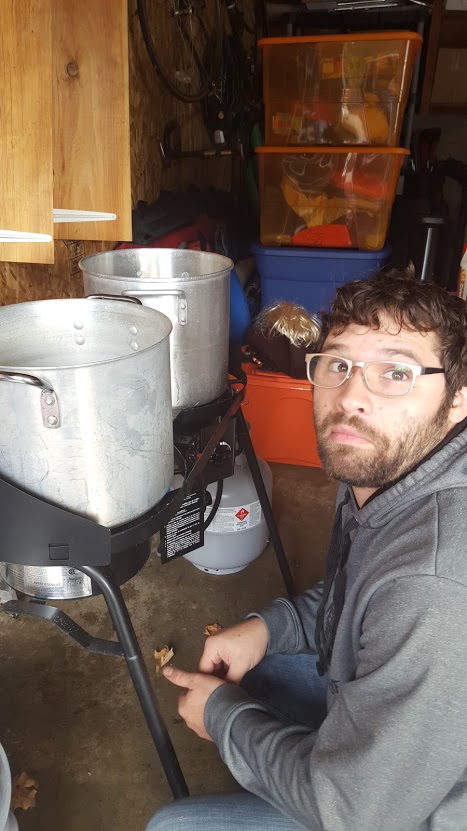 We're not going to go over the steps of brewing in this post but one of the most important parts of brewing is sanitation. We had to clean all equipment before officially even getting started. This was the hardest part of getting started because no one likes cleaning. Brewing makes you clean doubly as much.
Once we got started with the brewing process, the day became a whole lot more fun! Maybe it was the brewing part or maybe it was the drinking beer part but either way, more fun than cleaning. We had two kits to make and decided to make things even more interesting by forming teams to brew each batch separately. There were lots of conditions that could cause differences between each brew but we're not going into too much detail about what those were or who had which batch.  All I can say is that, Mary and I's was better in our opinion 😉
Things got more and more interesting throughout the brewing process. It takes quite a while to make beer but we always have enjoying each others company!
Finally, it was time to cool the beer down and take this party inside. We finalized the beer making process by filtering cold water around the outside of each of the pots within two large coolers. Not the BEST way to cool down beer but it worked well for what we had. The final process was to siphon the beer into carboys to ferment with the yeast. This is where the magic starts to happen!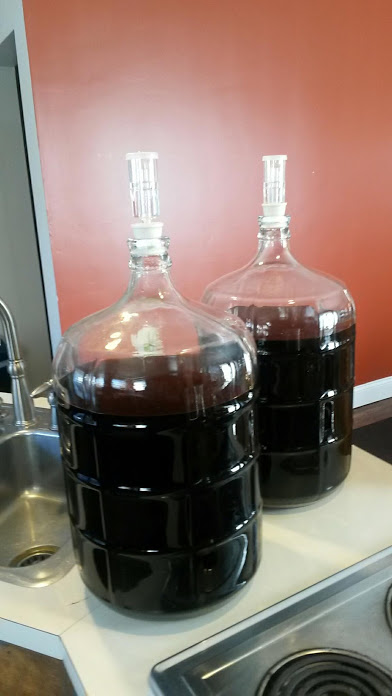 We let our beer sit for 8-10 days & switched to the secondary to rid the tasty beer of the dead yeast. Typically, the yeast will just settle at the bottom and you'll know it's time. The picture above shows the secondary batch looking to be a gorgeous dark color for a Milk Stout. YUM!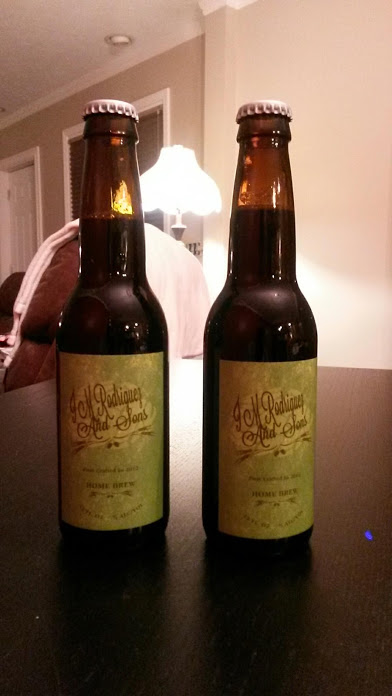 Another week after that, the beer is bottled and packaged up for distribution. We were not officially involved with this process  but were happy to hear it would be on its way to us in the near future! We even had labels for this batch with J M Rodriguez And Sons printed on them!
In the end, we're excited to officially taste each of the batches we made and hope you're able to try making your own batch some day – Cheers!