**Google Chrome & some versions of iPhone do not load photos properly, all other browsers should work well, enjoy!**
Tharon and I are on the way to our 6 month anniversary and we are still smiling about this incredible trip to the British Virgin Islands. Not sure why it took so long for us to share a post on the experience but here it is officially!
First Leg of the Trip
This was the longest day of the trip and not in the best way you'd imagine when flying to St. Thomas but still pretty great. It all started at 3am. Not because we needed to be somewhere that early but because of the excitement building from just getting married and being on holiday for the next 10 days. Alongside the wedding details we put a substantial amount of time and effort into planning our honeymoon too! We were ready to let loose and enjoy one of our favorite hobbies together, sailing!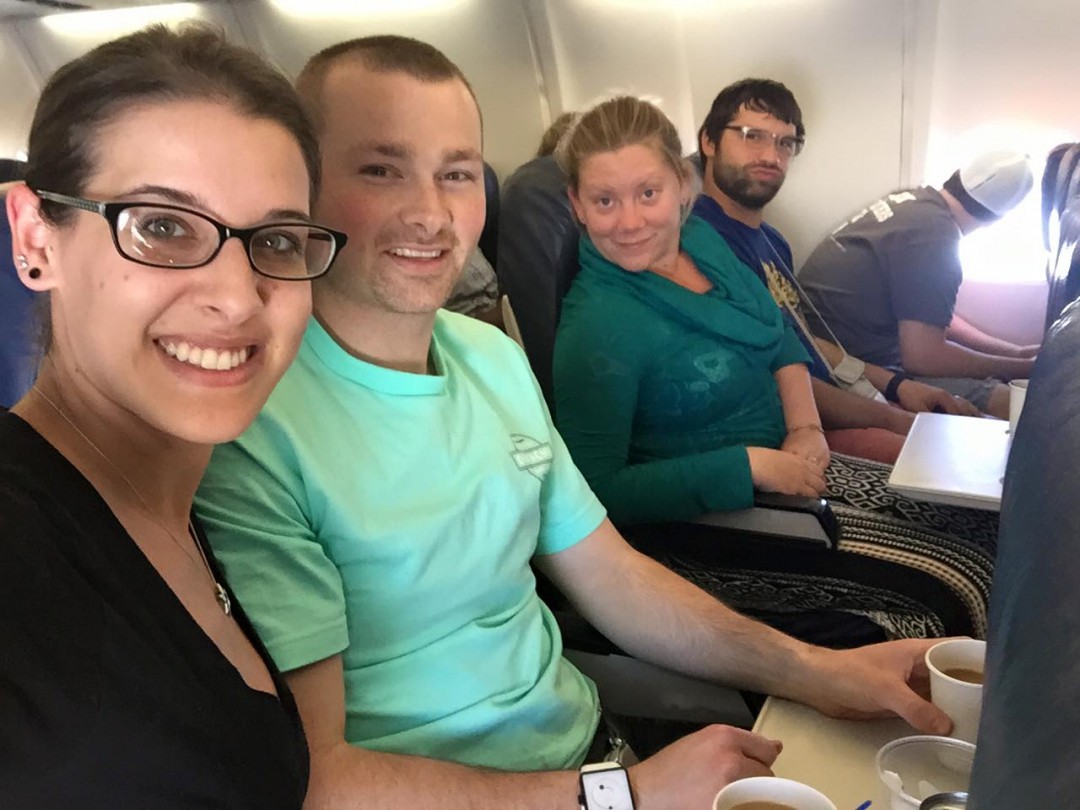 So we left Grand Rapids at 6am on a flight to St. Thomas alongside two of our best friends, Lisa & Colby Green. They got married in June and were able to share this luxurious honeymoon together!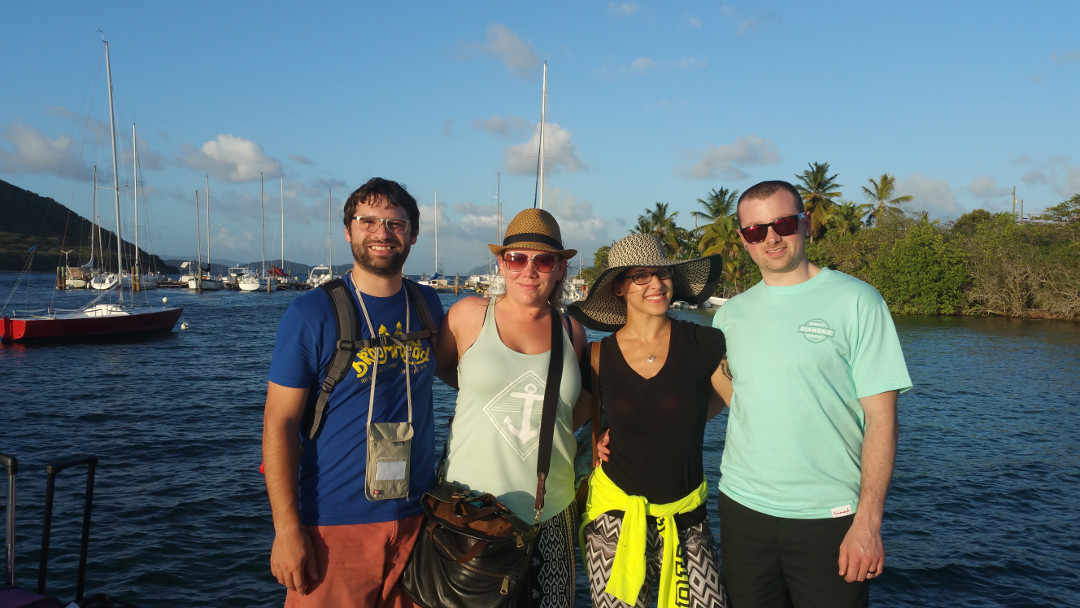 After what seemed to be the longest flight ever, we made it to St. Thomas. We WERE supposed to make it there by 3:30pm but instead made it there at 5:30pm. Our second plane ended up having some air conditioning issues that ended up having us wait around for two hours! It actually caused quite a bit of trouble for us being that the last ferry of the day would be leaving shortly after our updated arrival, 45 minutes away. No worries though, instead of us each paying for a two-way ferry ride for less than $100, we each paid $120 for a one-way ticket to our first destination. Woah. We were so glad to at least make it because we were staying on the sailboat the first night and couldn't wait to relax there!
Prepping for our Sailing Trip
The next day we went grocery shopping for the 7 day trip we'd have aboard our sailboat. In addition to our shopping we got a gratuitous amount of extra provisions from a neighboring boat that ended their trip early. This was a very nice gesture and we ate what we could but ended up throwing most of it overboard along our sail as it went bad. We stocked up with water, sunscreen, snorkeling gear, and of course some adult beverages to enjoy! We also rented a Stand Up Paddle Board & Double Kayak for entertainment. We went through a quick tutorial of the islands to determine our destinations and attractions to check out. After that, we were ready!

Here's Abracadabra. She's a Dufour 380 and was the perfect size for a comfortable week in the BVI. Some of our favorite features include the shade from the Bimini/Dodger, the fold down swim deck, and the double steering wheels. Very easy to handle and gave us smooth sailing the entire week. We went through BVI Yacht Charters and had INCREDIBLE guest service. They were an amazing staff and took great care of us along our trip! Check them out if you're interested in exploring the British Virgin Islands.
Exploring the BVI
Our first sail with Abracadabra was with Charlie, our check-out captain. It's good they don't just let people sail off with these expensive yachts and it was a pretty casual experience. We were only a little nervous about sailing a sailboat 14 feet longer than ours but got star reviews from Charlie before dropping him off just North of Road Town.
Our first destination was Norman Island where we snorkeled at The Indians, moored at The Bight and had a beautiful sunset. Unfortunately Willy T's was closed due to the tropical storms that were being talked about. We had heard that place can get pretty wild and encourages people to jump off the deck nude so we didn't miss much, lol. Instead we had a nice dinner and took in the beautiful scenery. We had a bird friend to join us for a while and watched schools of fish jump out of the water.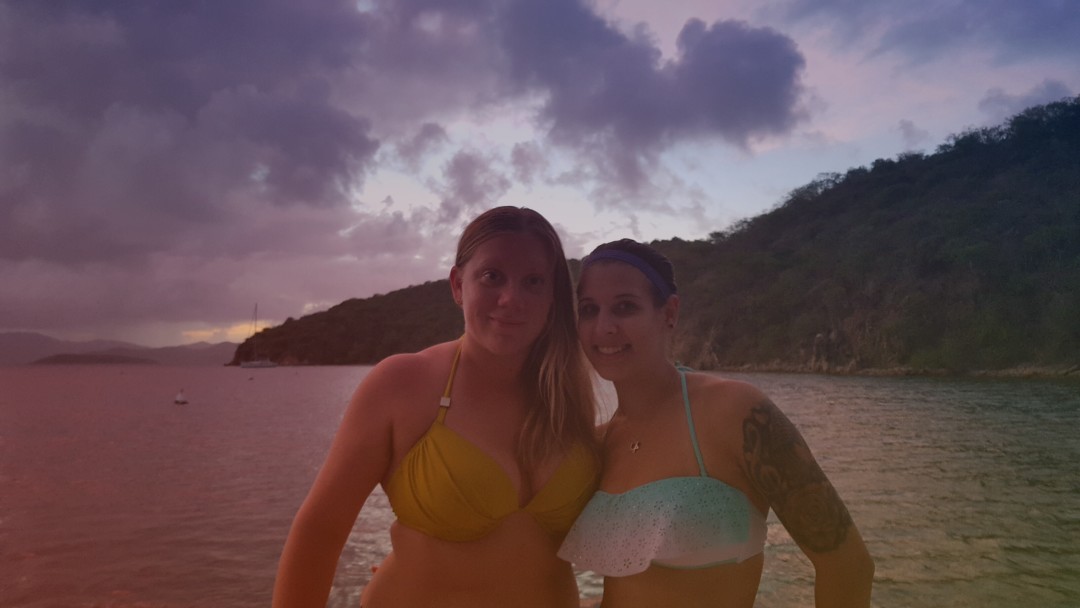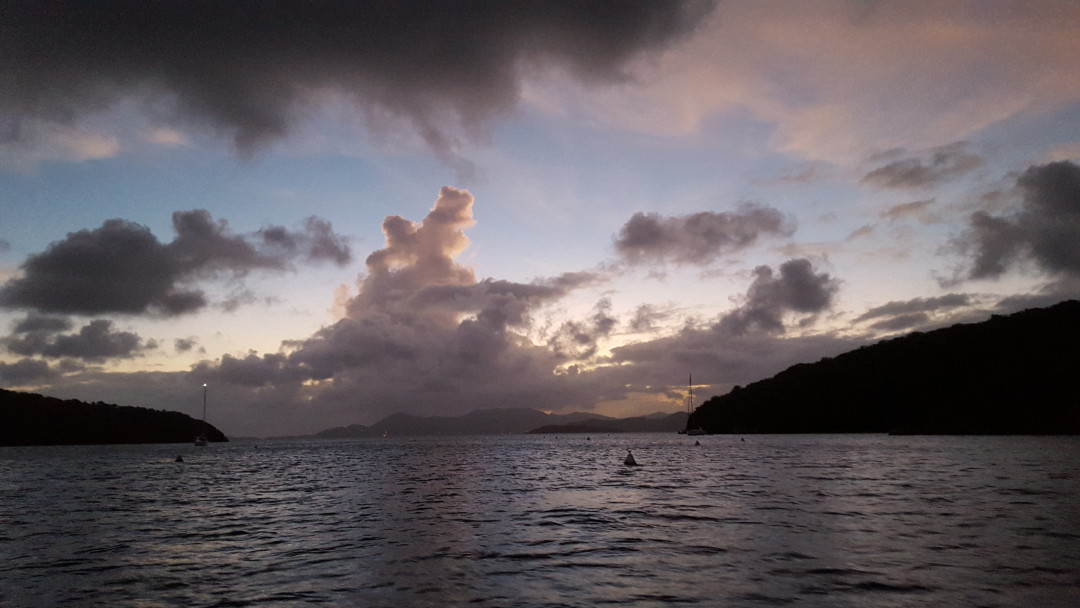 The second day, we did more exploring around the beaches of Norman Island and got an early start to sail around Peter Island, Salt Island, and Cooper Island. We enjoyed each of the islands for their personality but ended our sail at Cooper Island where we circled all the way around until going back to the original mooring we had enjoyed first. It was a bit rocky but would do well for the night. We snorkeled, paddle boarded, and explored the beaches. Then we took to laughing the night away over games and drinks.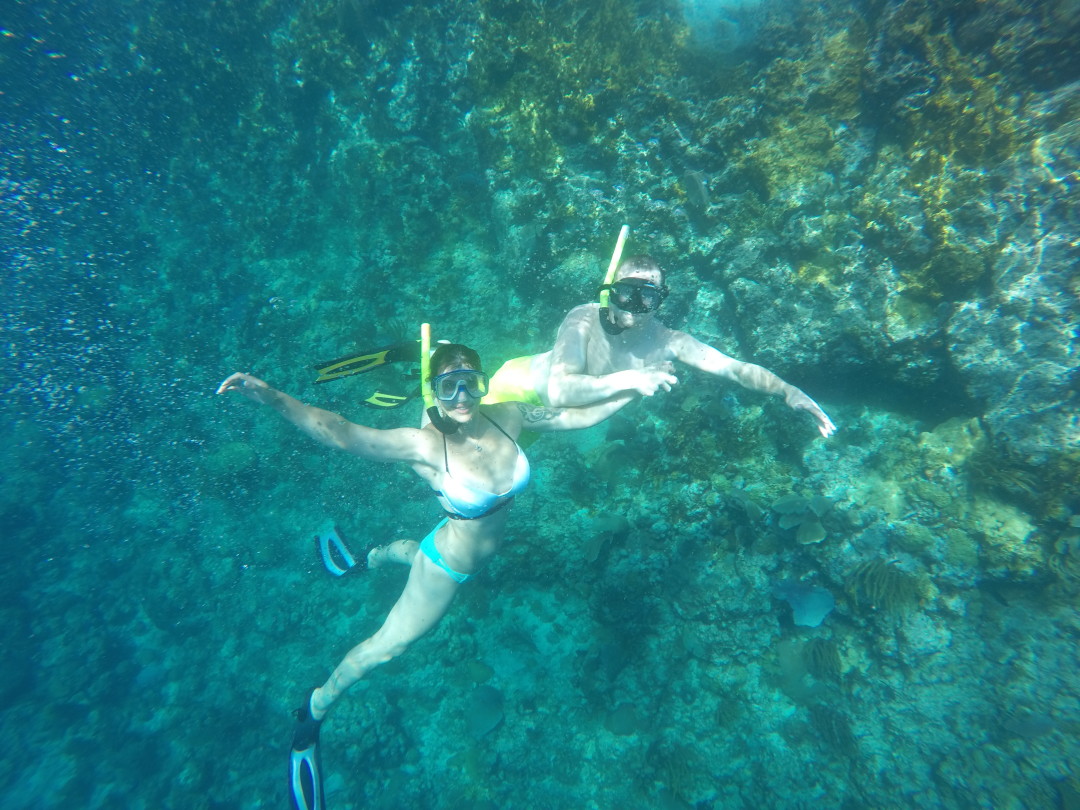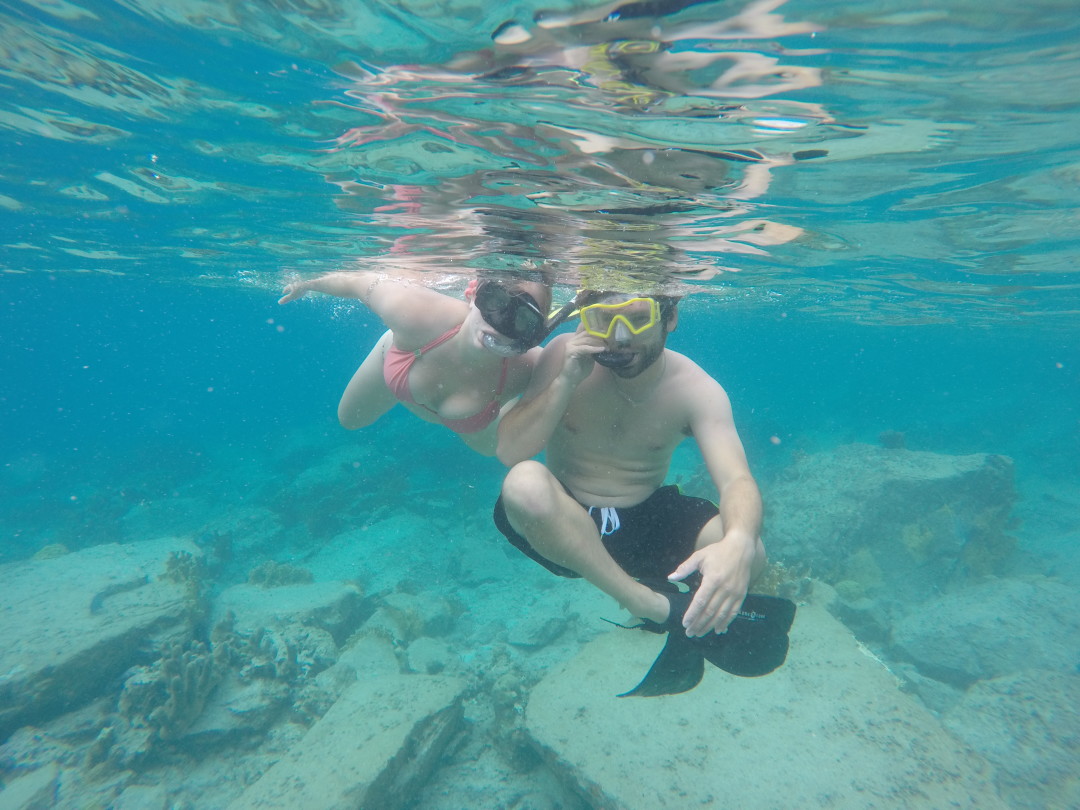 Our third morning was one of our favorites to snorkel. Still moored on Cooper Island, we were all getting ready for the day, trying to get clean from all the salt water swimming. That's when cleaning up all went to waste because as I was washing my hair on the swim deck I saw Stingrays jumping out of the water! I yelled to the others and we all jumped in. We caught a pretty awesome video of Stingrays playing in the sand, jellyfish floating along, and a Pufferfish following a large sized Spotted Eagle Ray. SO COOL!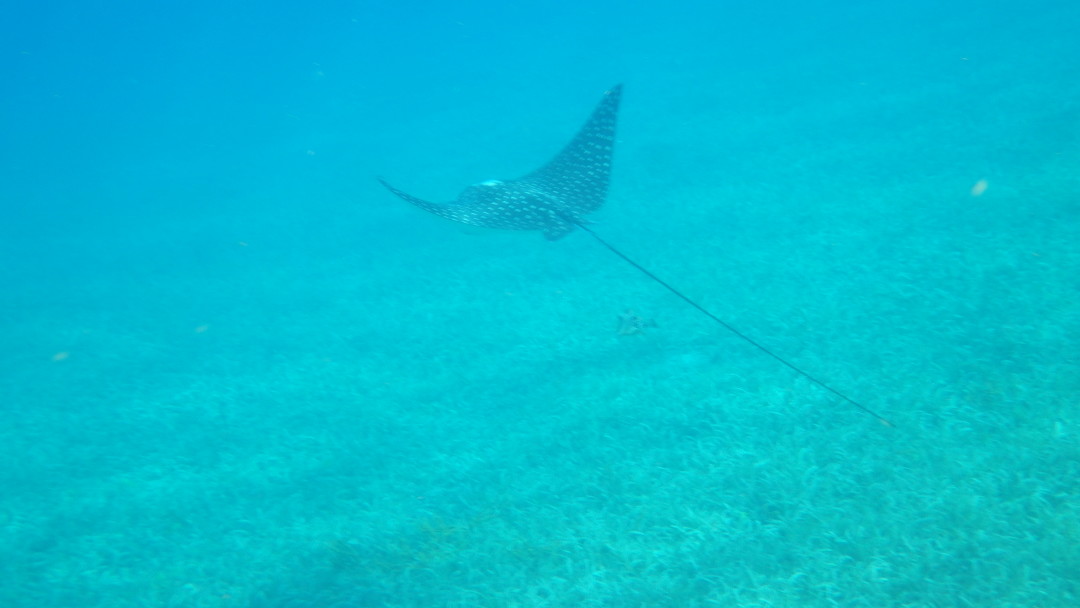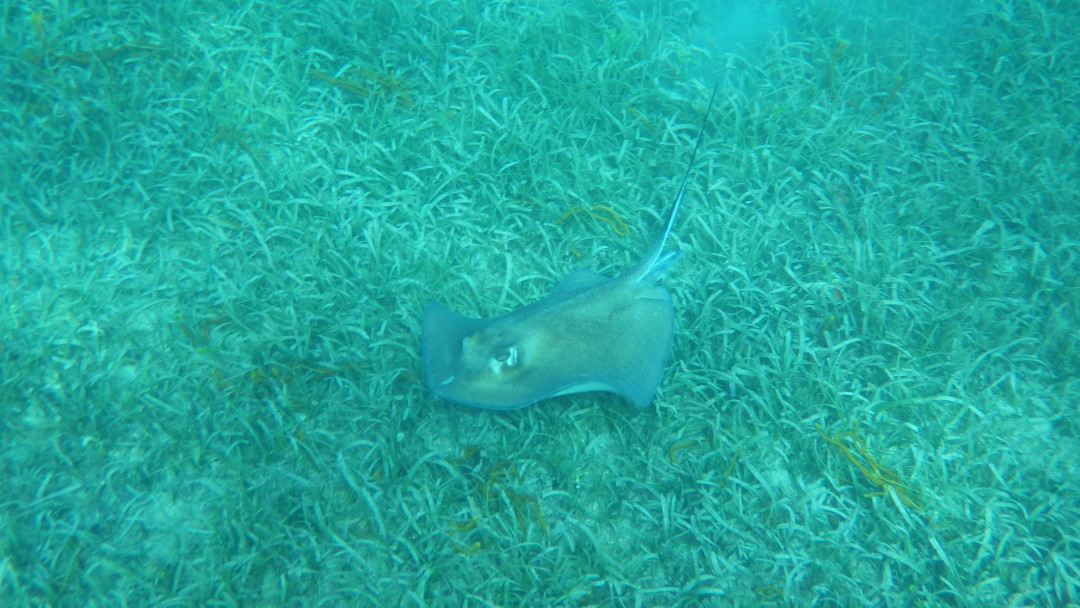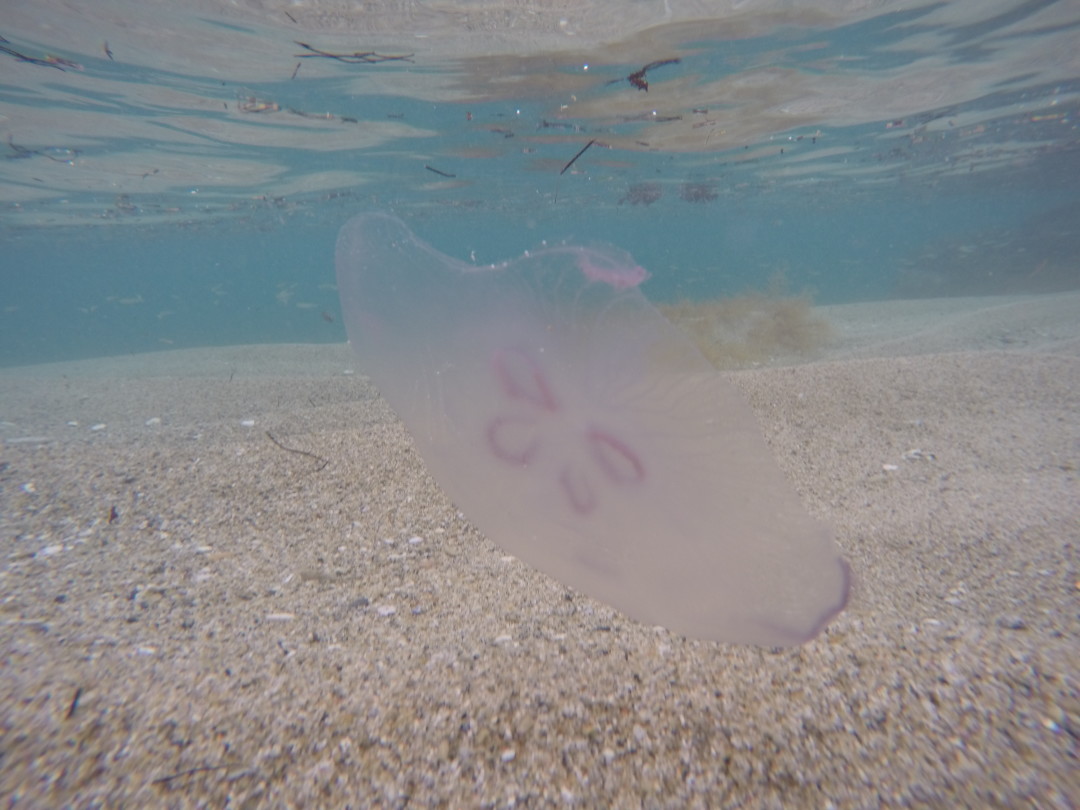 From there, we were on a mission to sail to Virgin Gorda. It was also my day to Captain and I was pumped to go check out The Baths! It was a smooth day to sail and took to the wheel for the 3 hour sail passing Ginger Island, Round Rock Island, and Fallen Jerusalem. We made it to Devil's Bay National Park and it was such a gorgeous site to see!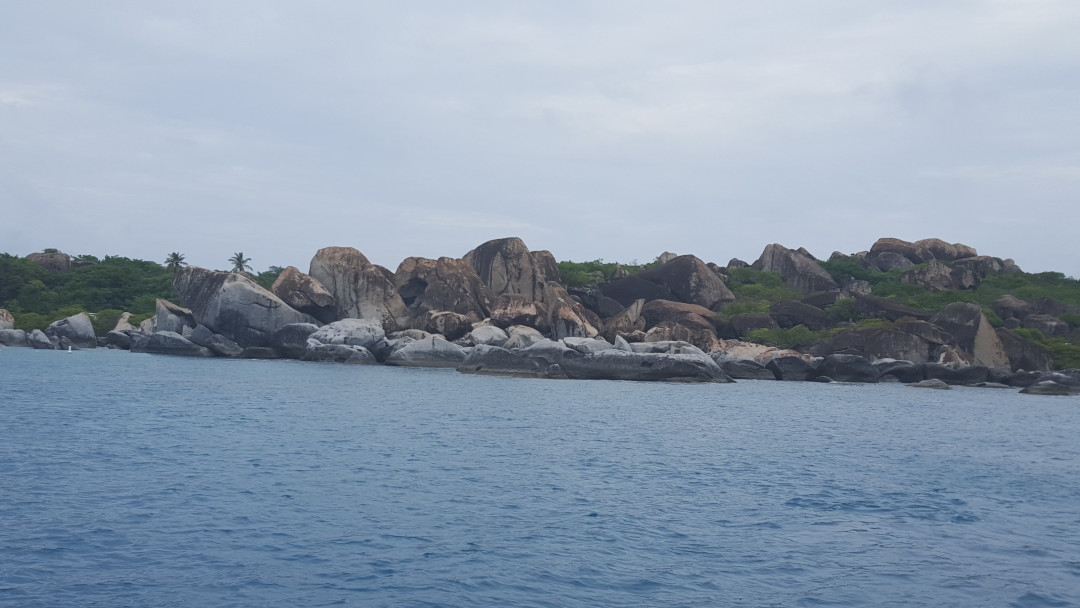 Then, Tharon checked his email and noticed his phone had a voicemail or two. It was BVI Yacht Charters letting us know that Tropical Storm Danny would be a threat to sailors and asked that we make our way back to Road Town for a night or two. Basically, we had just gotten to one of the most beautiful places in the BVI and had to turn around to leave. We started drinking a little earlier that day to say the least.
We made it back to Road Town, docked our boat, and went to the office to determine the rest of our day. They gave us a warm welcome and had a food truck outside the office serving tropical flavored Italian Ice. Yum! We waited for our taxi to arrive and made our way up to the top of the island where we enjoyed dinner and drinks at Bananakeet Cafe. It was quite the drive with all sorts of twists and turns going up and up. It made for a delicious dinner and had great views looking over Jost Van Dyke.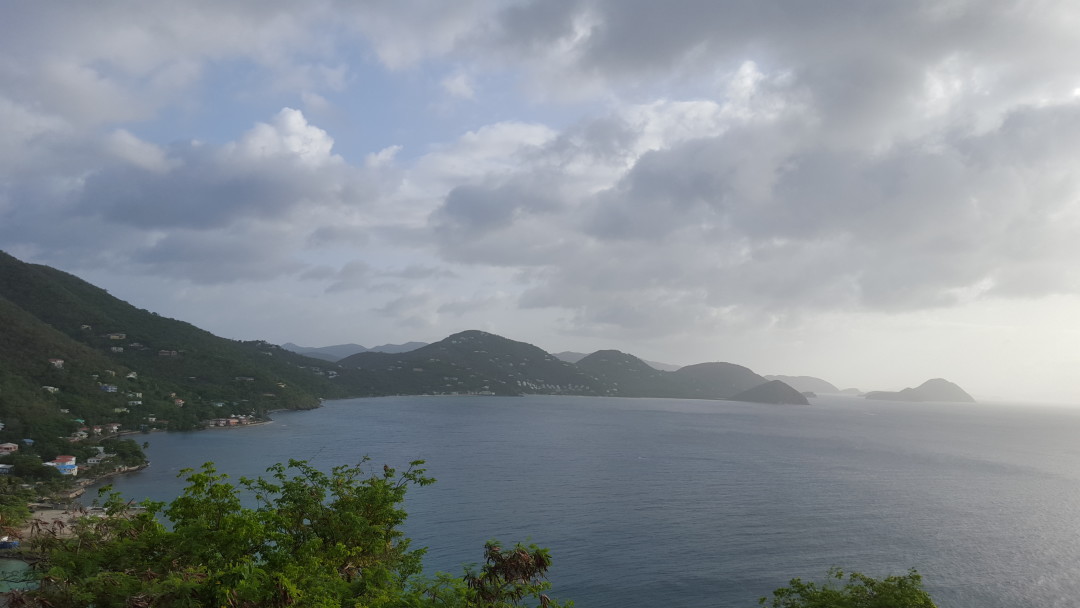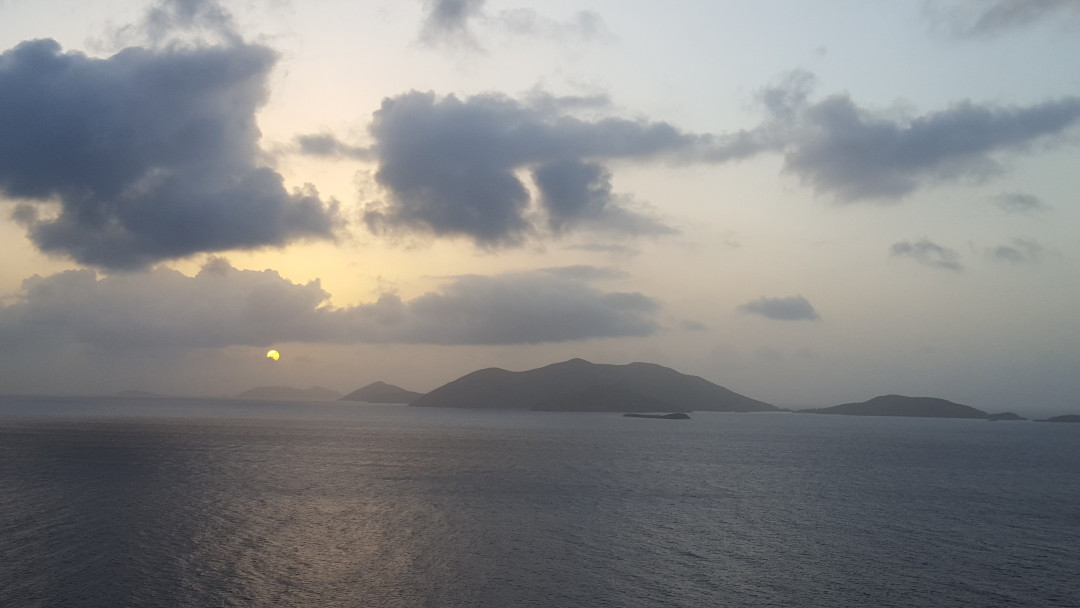 We waited a long while for our driver to come back and enjoyed some sun downers while taking pictures all over the cafe grounds.  It was a good time! Heading back to the boat, we made it just in time to meet the last worker leaving for the day. He informed us that all the boats were moved to Village Cay so that was lucky to find out! Everyone was getting ready for Danny so the town was bustling with preparation. They tied off the boats well so Tharon and I stayed on the boat that night but Colby/Lisa resorted to getting a hotel room. It was pretty nice to have AC so we played games and had drinks in their room for the night!
Morning came and we were ready to get back to sailing. It didn't happen. Although Danny was a very minimal tropical storm, it was the after effects that kept us from sailing with large swells and heavy winds. We made the most out of it by also getting our own hotel room for the night, swimming around in the pool, and enjoying the company of all the other sailors at the hotel bar.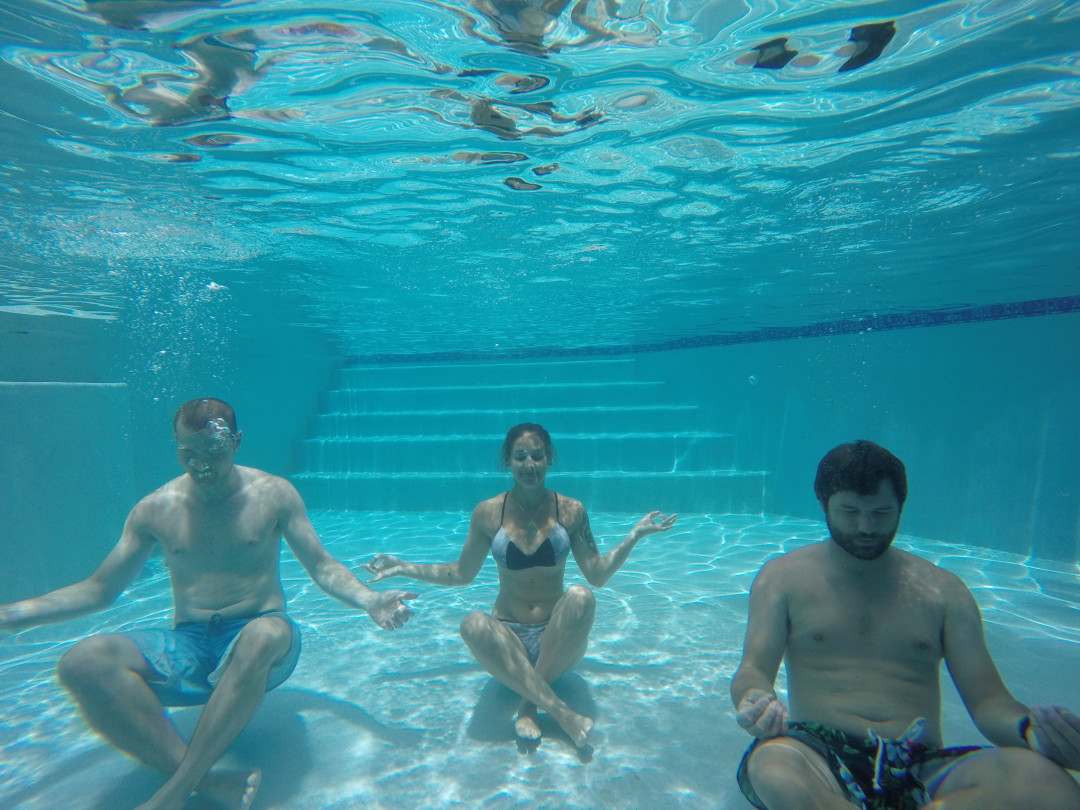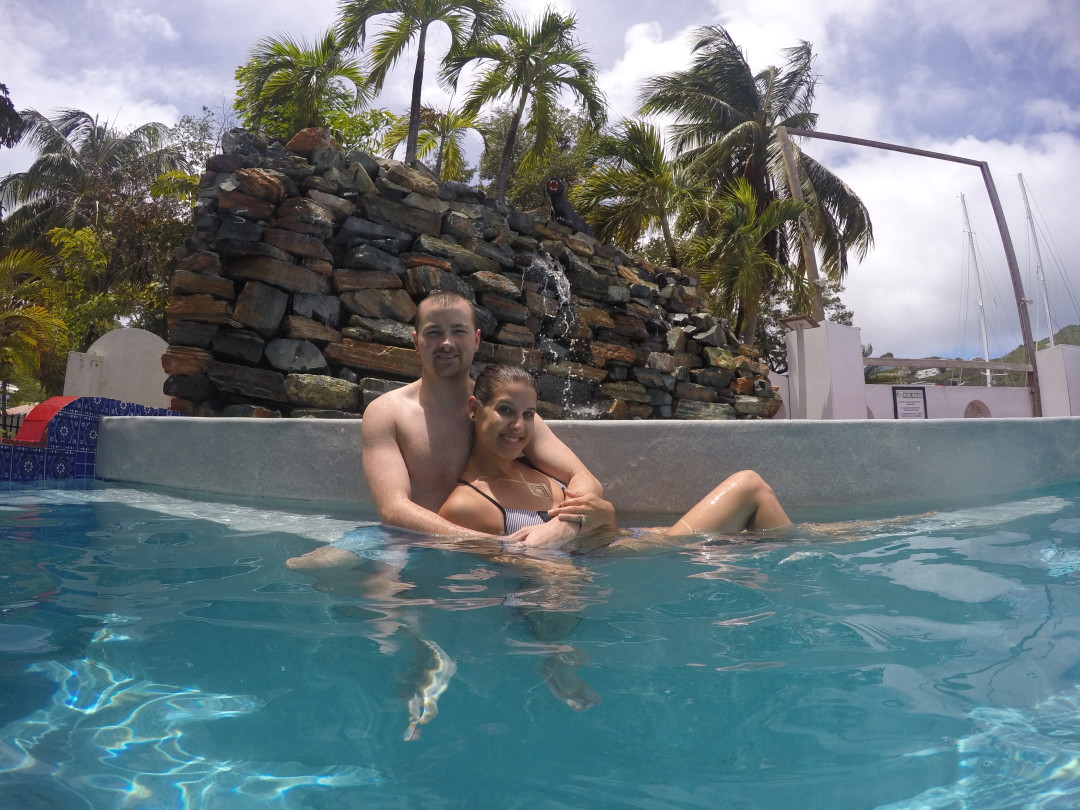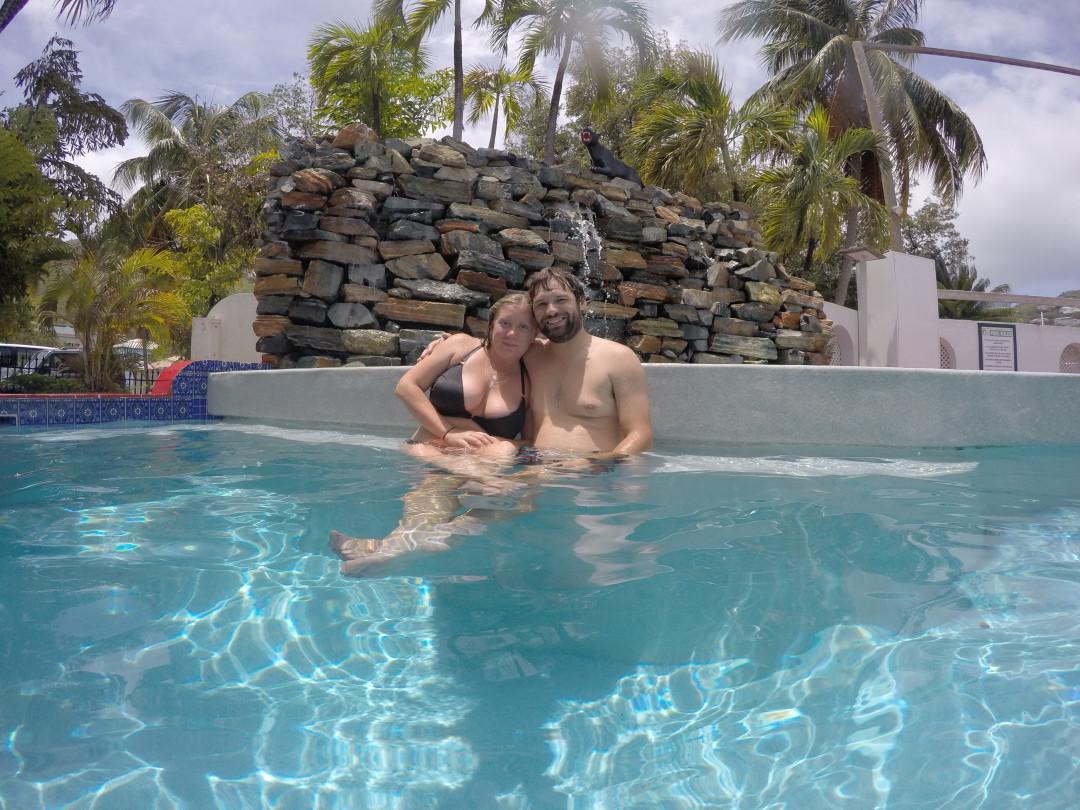 We met some really great people that day.  The entire day consisted of drinking, watching the news, and laughing with new friends. The bar was open until 12pm but guests gave them so much business that they ended up staying open until around 4pm. It was an eventful day and we even saved an old man from drowning off a nearby dock. He had been drinking quite a few Heinekens and missed getting back into his dinghy. Before leaving Bernie/Melanie and Mike/Laura  (the new friends we had met), we made plans to meet again at Trellis Bay, Beef Island in a couple days for the Full Moon Party. Playing Munchkins and drinking more rum was on the nights agenda and it was a great distraction from the blustery weather.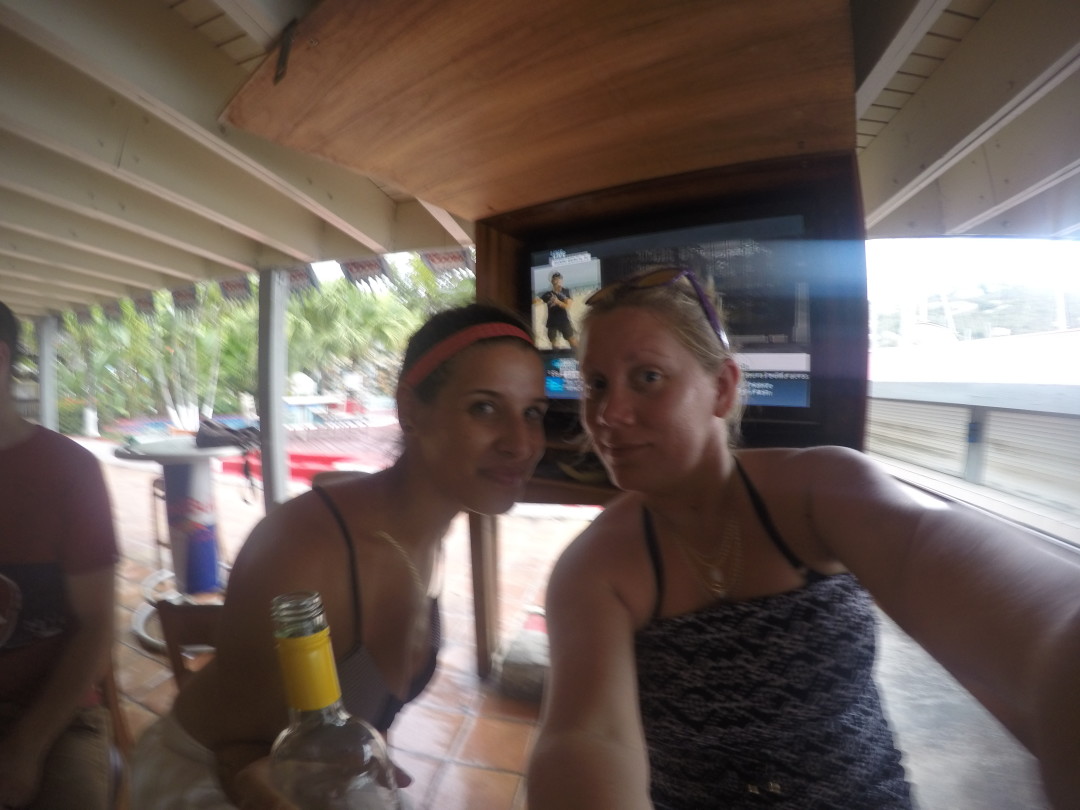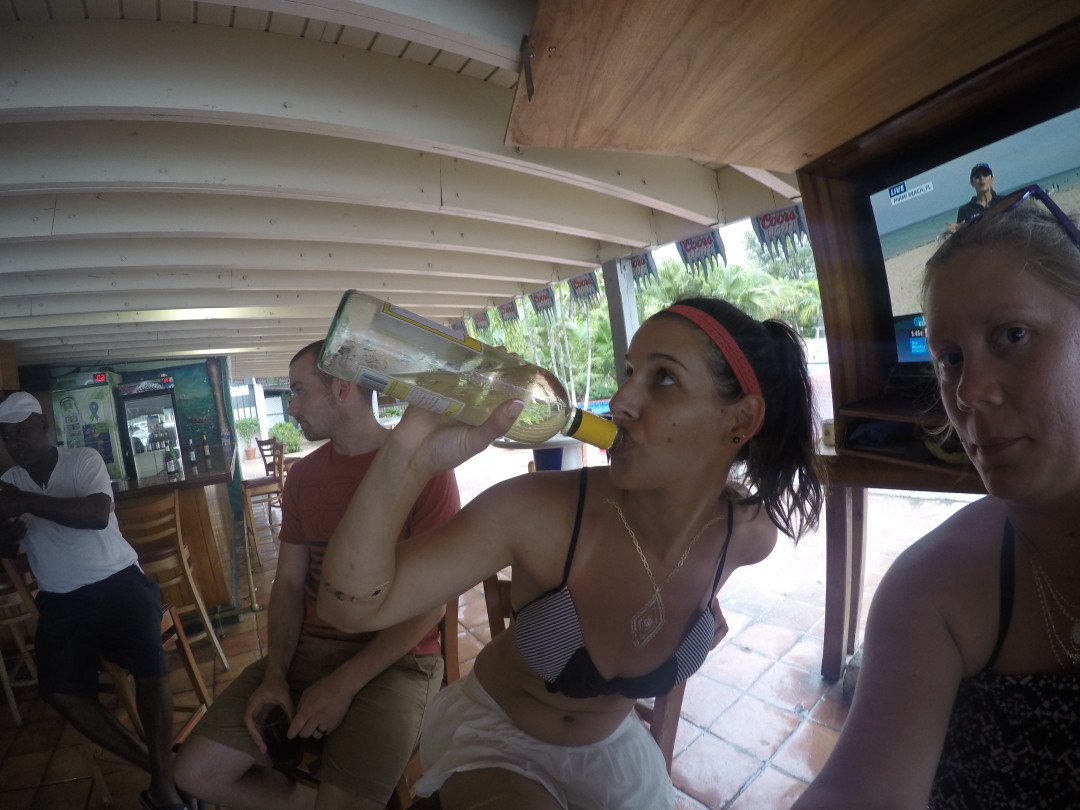 The next day, we were excited to get back to sailing and were given the clear to leave! We had to wait around for a while for them to put the sails back on, untie the lines, and re-equip our SUP/Kayak so we relaxed by the pool after packing up. We decided we'd sail right back to The Baths so we could check it out in person rather than afar from the boat. It is a magical place and is incredible to see in person! There is a small trail that goes through all of the rocks and allows for a very intimate experience inside the massive rock structure. We took lots of pictures, discovered huge Sea Slugs, and did lots of climbing!
After a nice day exploring Devil's Bay National Park, we sailed towards Spanish Town. It is indeed a Spanish speaking part of the BVIs and we explored it a bit before retiring to have dinner at a place called The Bath and Turtle. They had delicious grouper fish & chips in which we all decided to order.
The next morning we saw Sea Turtles swimming all around our boat!! We dove in to snorkel but didn't see any of them swimming underwater. We sailed by Scrub Island and made our way to Marina Cay to check out one of the infamous Pusser's locations. We had a hell of a time mooring off and almost lost both our boat hooks. The water was filled with Brown Jellyfish (Nettle Fish) and Pink Jellyfish which made retrieving them much more difficult. Finally making it to Pussers, we found that it was closing down for the day an hour early. We did see some dolphins at this mooring but was too rocky to relax. We instead made our way to Trellis Bay for an early arrival before the Full Moon Party later that evening.
Full Moon Party
We were the first to arrive of our group and the mooring balls were filling up fast! Slowly the others made their way on their sailboats and then onto ours to pregame. We made tasty shots out of our remaining rum and smoked cigars courtesy of Mike & Laura. Starting the night off right, we made our way to shore and had a hearty dinner.
From there we enjoyed island music, dancing, watched bundles of wood structure burn into the ocean, and enjoyed the company of friends and adult beverages.
Last Day on the Boat.
Surprisingly we were the first to leave the mooring from our wild night before. While the others had a few more days to sail, we sailed back to the charter office and said goodbye to our friends at BVI Yacht Charters and to Colby & Lisa as they were off to catch their plane the next morning.
Sailing around the BVI was such an incredible experience. Our dreams are to sail full-time and to continue exploring all these beautiful places. It's affordable, challenging, and fun! Although we said goodbye to our temporary sailboat home, our trip continues!
Exploring St. John, USVI
Tharon and I took to St. Johns, USVI for an extended honeymoon. We arrived via ferry and rented a car to explore the island more intimately. It was a wild drive to the Concordia Eco Resort (all the way across the island) but allowed us to get a feel for what we'd do there for the next few days. Immediately when we arrived, we learned that we had been upgraded to a Premium Eco-Tent and were one of the last guests to stay before their off-season. Such a great experience for us to explore the island. In fact, it soon became our favorite place on the trip. We stayed there three days where we drove around (lots of off-roading), explored beaches, went hiking every day, ate at awesome restaurants, explored old ruins, went shopping, & of course snorkeled all we could. If there would be any spot to live in the USVI, St. John's would be our spot!
Our trip went by fast like any other but will cherish this one forever. It was the BEST two weeks of our lives and will always hold it close to our hearts.
Cheers, thanks for reading!