Well it's been a week since I've started my plan to get healthier and couldn't be happier with the results thus far. I've been 100% committed to a Detox Plan that I've personally put together after reading a couple books and some online articles. This post will show you the breakdown on Week 1's schedule, how I'm feeling, and one of the recipes I've been enjoying!
Mornings
In the mornings, I've been doing excellent with the 5am wakeup. In fact it's 5:30am right now and I've already gotten quite a bit done around the house. My routine starts with getting dressed, putting cold water on my face, and starting hot water for tea. From there, I've tried to stay busy doing something productive for work, the website, or read. Here's a look at what I consume and do each morning!
Hot Water & Lemon
Green Tea – Muscle Recovery
1/2 Multivitamin & 5,000 mg of Biotin
 30 – 60 min at the gym for a light workout
Breakfast = Berry Protein Shake (after 8am)
Dry Brush & Shower
50 ounces of water
Doesn't sound like a whole lot of calories but it's actually more than a typical detox due to the fact that I am going to the gym at the same time as reworking my diet. It's only around 250 calories total but is the most delicious part of the plan. I've been feeling great in the mornings, my mind has been very focused along with my body being ready for the day!
Afternoons
Mid-mornings, I'll have some herbal tea when I get a little hungry. I've got an array of flavors to choose from and are all relative to different parts of the detox. Close to noon, I've been enjoying my lunch. This consists of a green juice in some way shape or form. Sometimes I've had store bought juice. Sometimes I make my own. Sometimes I go to the Malamiah Juice Bar and have one made for me. It all depends on my schedule! These juices are between 20 calories and 200 calories (depending on sugar content from fruits added). Throughout the afternoon, my goal is to drink roughly 50 ounces of water.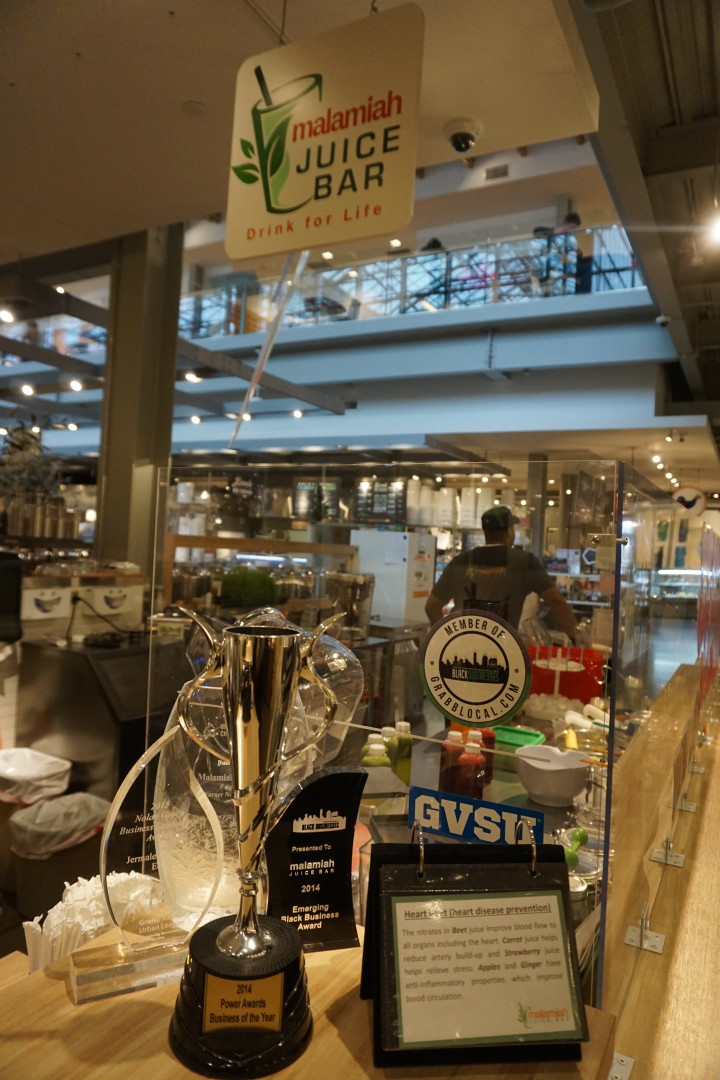 Even if you're not 100% on doing your own detox/cleanse, Malamiah Juice Bar has different options to choose your own mini-cleanse. They're located at the Downtown Market in Grand Rapids, MI.
Evenings
Mid-afternoons, I'll have another herbal tea. When I get home, I'm feeling pretty hungry. Tharon will always be making something delicious for dinner but I resort to a very natural-flavored soup. This has been the most difficult part of the day as beer, pizza, and 'real' meals sound so good (I've complete resisted, woo)! This soup consists of around 30 calories and is quite delicious. Here are some other things I'll add before bed.
1/2 Multivitamin
Chamomile Tea
Evening Stretch
Detox Bath (2 cups Epsom salt & 1 cup baking soda)
Other Activities
Friday – Relax
Saturday – Kidney Cleanse

2 bunches of parsley juiced)
1/4 cup black cherry juice
1/4 cup distilled water
5 drops of goldenrod tincture
Drink & follow up with Marshmallow Root tea

Sunday – Yoga Sunday!
Monday – Colon Hydrotherapy
Tuesday – Relaxing Massage
Wednesday – Aloe Vera Treatment
Thursday – Sauna Treatment
Most of these activities I've been able to enjoy at home but others I've scheduled out to work well around my everyday schedule. My goal is to continue a Vegan diet for the remaining 14 days incorporating many of the same items above. I'll give another update with more recipes in the next update!
If you're interested in the books I've read in regards to Detoxing, here they are! Although my program is a bit different because of my daily workouts, each of these books all provide excellent information on knowing the science behind forming detoxing and forming healthy diets.
If you want to learn more on the entire health plan I've put together, leave a comment with email below and I'll send you the breakdown!
Thanks for reading!