We spent two days of our vacation in Miami. The first day we got in late and woke up early to enjoy brunch with Tharon's sister Amber. Although we didn't have much time to catch up, it was still exciting to see Amber and meet Serenity for the first time (Tharon's niece). I wish I had taken  more pics from this day but I apparently only took two videos of me playing with Serenity 🙂
The second day was our last day at sea and made it back to Florida early in the morning. We were flying out later that day but had the whole day to explore more beer, food, and culture around Miami. We packed our things and first went towards finding breakfast. Here are some of the city scape shots we got aboard the cruise ship. Miami is a lot of fun!
>> After making our way to Sixt to rent a car, we had breakfast at KC Cafe. It was a very different place to eat at, ended up tasting really good and was exactly what we needed to help us to recover from the beer cruise. From there we drove to Oletta River State Park to explore some Miami nature and ended up lazing in our hammock for a quick nap. We didn't see much wildlife at the park but took some pictures of some pretty purple flowers. Others mentioned seeing manatees swimming along the shoreline but we didn't see any <<
>> After relaxing in the Florida Wildlife, we packed up and went towards some breweries! Before we left on the trip, I had heard that Concrete Beach and Wynwood Brewing would be worth while to stop at. They were within walking distance of each other and was told it was in an artsy neighborhood. As we got closer to the first brewery, we soon figured out how artsy this place was. Almost every building had it's four walls painted with huge murals and graffiti. Apparently it's a bit of a destination for people but Tharon & I just stumbled upon the citie's transformation <<
>> Only took these two pictures at the brewery but did want to point out the awesome copper vats in the background. When Tharon and I start our own brewery, we're definitely going with copper. Concrete Beach was a really pretty brewery and had their garage style doors open to the warm air with a 360 degree bar going half way out into the patio. Their patio walls were outlined in rebar frameworks holding medium sized boulders inside them. Other walls were solid cement painted top to bottom with colorful murals <<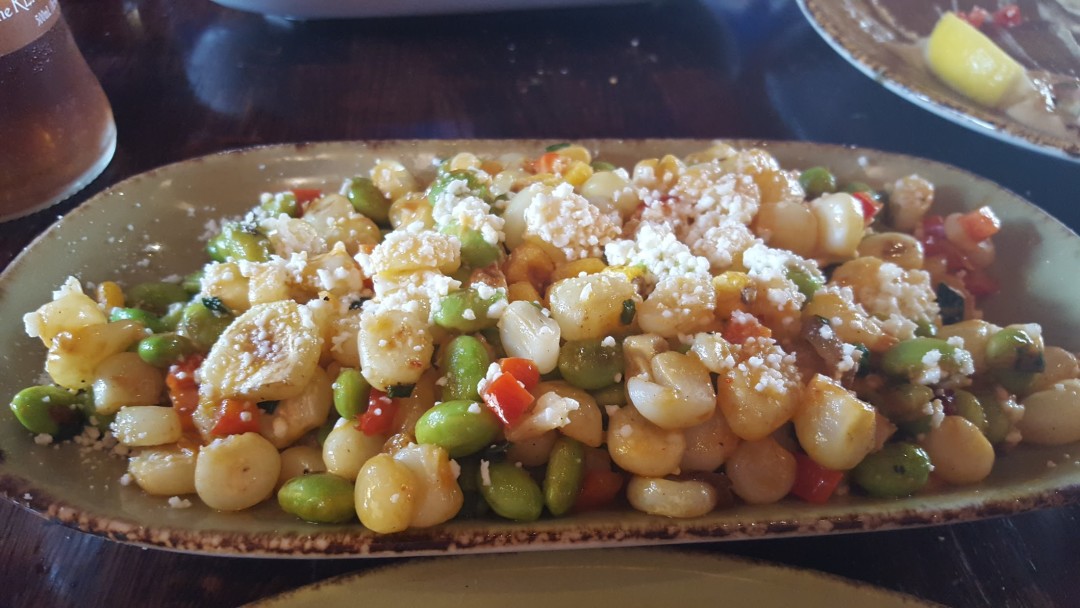 >> Before heading to the next brewery, we ate lunch at Wynwood Kitchen & Bar. This place was AMAZING. It is a tapas style restaurant and is in the midst of the excitement of exploring Wynwood Walls. I highly suggest this place for lunch. We tried an amazing Succotash that had edamame, red peppers, caramelized shallots, cotija cheese, and and choclo. We soon found out that choclo is a variety of field corn (much larger than everyday yellow corn). It had a spicy chipotle finish and will be back to enjoy this dish again someday! <<
>> To say the least, we got very distracted by this artwork while making it to the next brewery. Wynwood Walls is something we randomly stumbled upon but has made this once troublesome neighborhood into a spectacle for artists and tourists from all over. Check it OUT, this is a very small sample of the artwork all around the immediate neighborhood. It goes on for blocks and was so much fun to see. Our final stop was toWynwood Brewing. This place was a very simple layout and was filled with people playing board games (my kind of style)!
After trying both breweries, Tharon and I decided that Michigan Beer is far better. In fact. We are spoiled in Michigan!! We tried every beer at Wynwood Brewing and a few at Concrete Beach. All being satisfactory but not amazing.
In the end, we very much enjoyed exploring Miami but could never live there full time. It gave us very good food but only mediocre beer. It gave us fun surprises like Wynwood Walls but then disappointed us with terrible drivers. It gave us a beautiful park but not enough trees to hang hammocks on!? Either way we'll be back to visit again, they have a great nightlife and beautiful beaches! <<
Cheers & thanks for reading!