Ingredients
10 Ounces of Gnocchi
1/2 Pound Brussels Sprouts
1 Clove Garlic
1 Lemon
1 Red Onion
1 Bunch Thyme
3 Tablespoons Butter
1/3 Cup Grated Parmesan Cheese
Salt & Pepper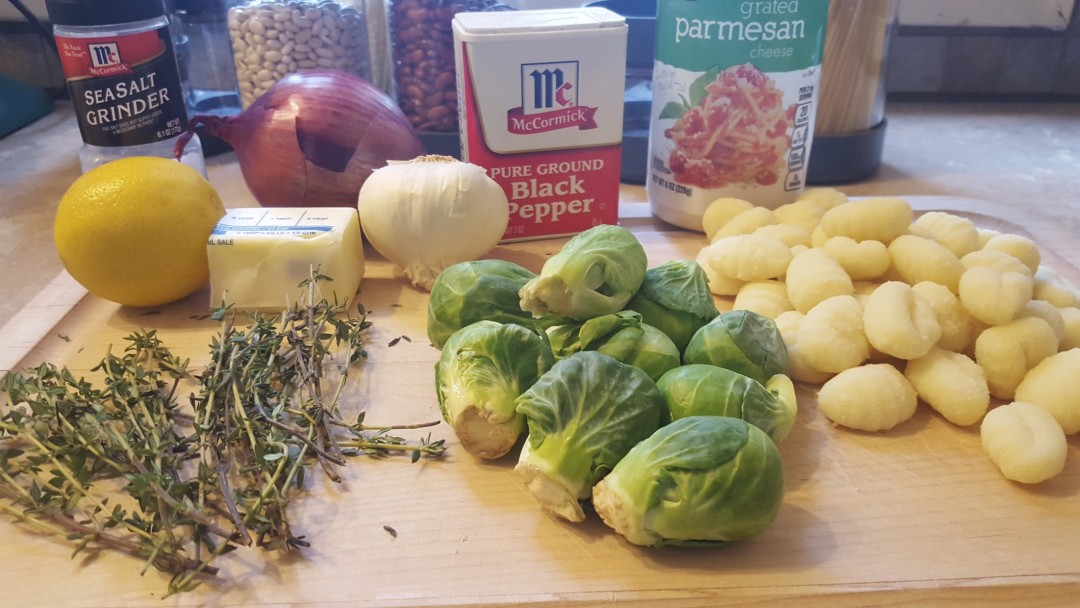 Directions
1. Prepare the ingredients
Wash & Dry the fresh produce
Red Onion – Peel & thinly slice
Brussels Sprouts – Cut off stems, Pick off leaves until the lighter core. Discard the cores.
Lemon – Mince 2 Teaspoons of zest. Quarter the lemon & deseed
Thyme – Pick leaves off the stems
Garlic – Peel and mince
Gnocchi – If you're making you own, ingredients are below. If not, skip to step 5.

4 Large Russet Potatoes
2 Cups of Flour
2 Egg Yolks
1 Tablespoon Olive Oil
1/2 Teaspoon of Salt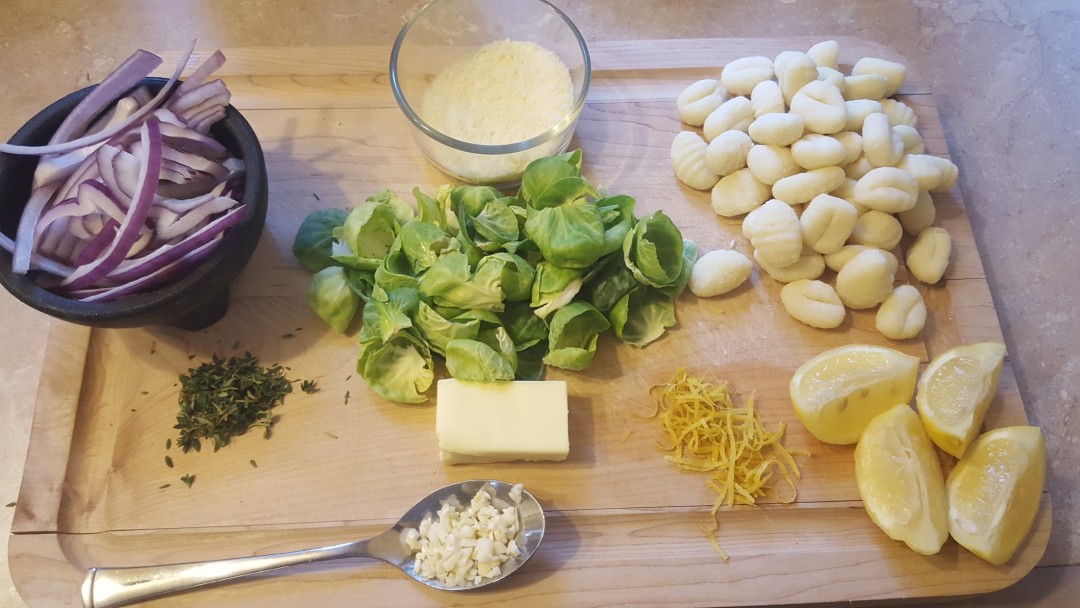 2. Prepare the Gnocchi. In a large pot with just enough water to cover them, boil potatoes with their skins on. Boil for 20 minutes or until fork tender. Don't over-boil, they could get mushy. Remove potatoes and drain well. Allow them to cool in the strainer. Once cooled, peel skin off potatoes & continue to dry them on clean dishtowel. On the side, mix flour and salt together in a small bowl.
3. Make the Gnocchi. Either by using a potato ricer or a fork, mash the potatoes to have no lumps in them. Mound the riced potato onto a wooden board or a clean, dry countertop. Mix the mashed potatoes with the egg and olive oil. Sprinkle the flour mixture over the potatoes and mix gently until the flour is moistened and the dough looks crumbly. Lightly flour the workplace and knead the dough together until soft & smooth. Knead just enough for the dough to come together, it should have a loose airy texture. Be careful not to over-knead or add additional flour.
4. Cutting the Gnocchi.  Shape dough into a long rectangle for cutting. Cut dough into 8-10 pieces, about 4 inches long. Roll each piece into a the thickness of gnocchi you're looking for. Cut 1-inch pieces from the ropes on an angle. Toss in flour and keep in a cool area. Using a fork, you can make creases but is nothing more than better presentation.
5. Cooking the Gnocchi. Heat a medium pot of salted water to boiling on high. Add the gnocchi to the pot of boiling water and cook 2 to 3 minutes or until the gnocchi float to the top. Keep 12 cup of the gnocchi water & then drain thoroughly.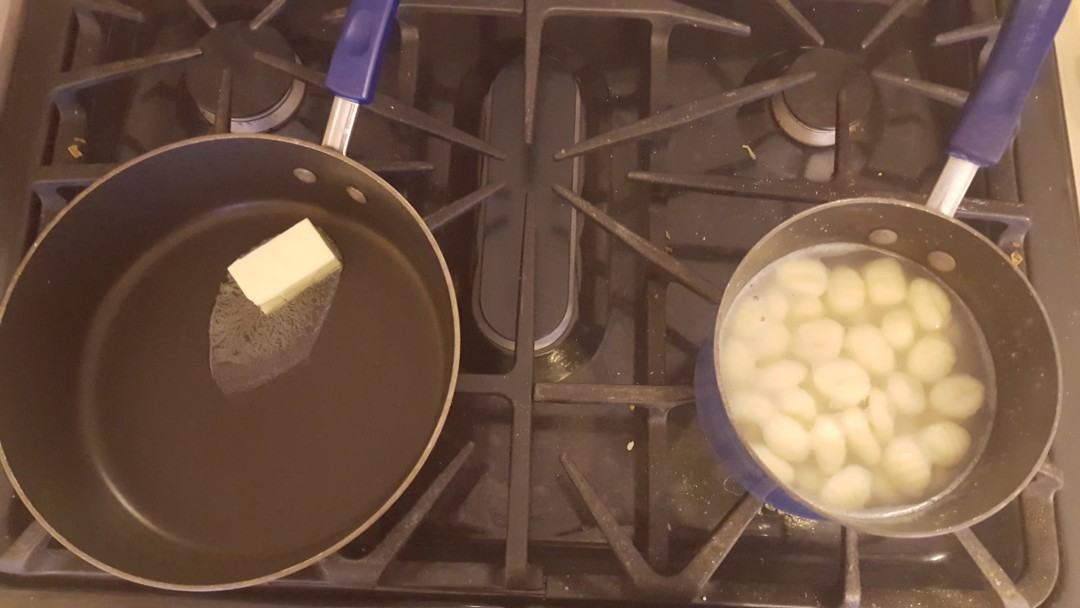 6. Brown the Gnocchi. In a large pan, heat the butter on medium-high until melted. Add the cooked gnocchi and cook 5-7 minutes, stirring occasionally. They should be lightly browned.
7. Flavor the Gnocchi. Add the garlic and onion to the pan. Season with salt & pepper. Cook for 2-4 minutes, stirring occasionally or until softened.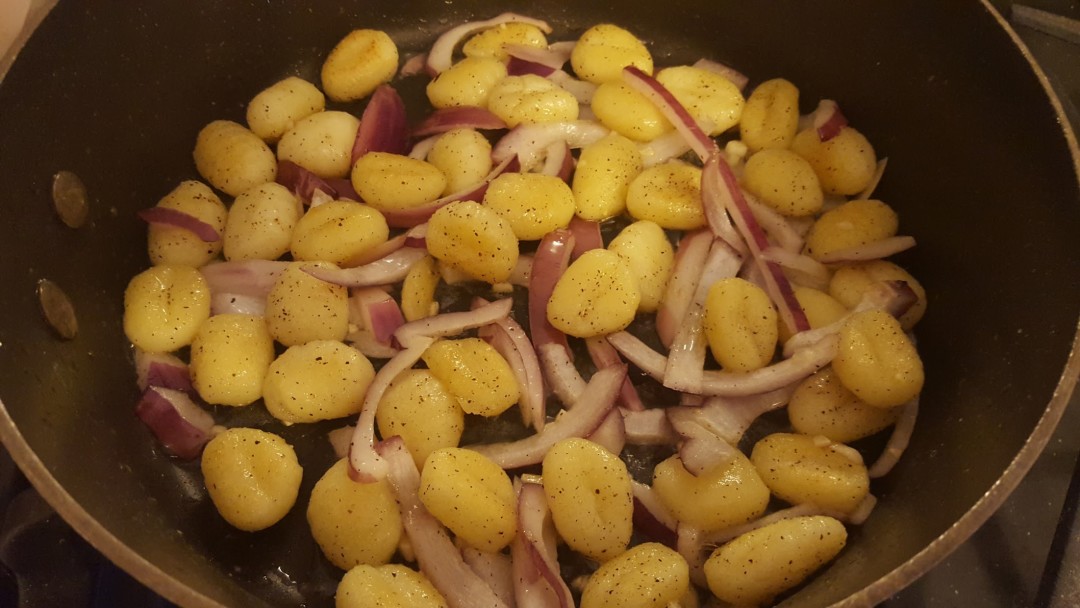 8. Finish the Gnocchi. Add the Brussels sprouts, thyme, lemon zest, juice of 2 lemon wedges, and 1/4 of the gnocchi water. Cook thoroughly for 1-2 minutes. If the sauce seems dry, add more of the gnocchi water. Thoroughly combine and season with salt & pepper. Remove from heat.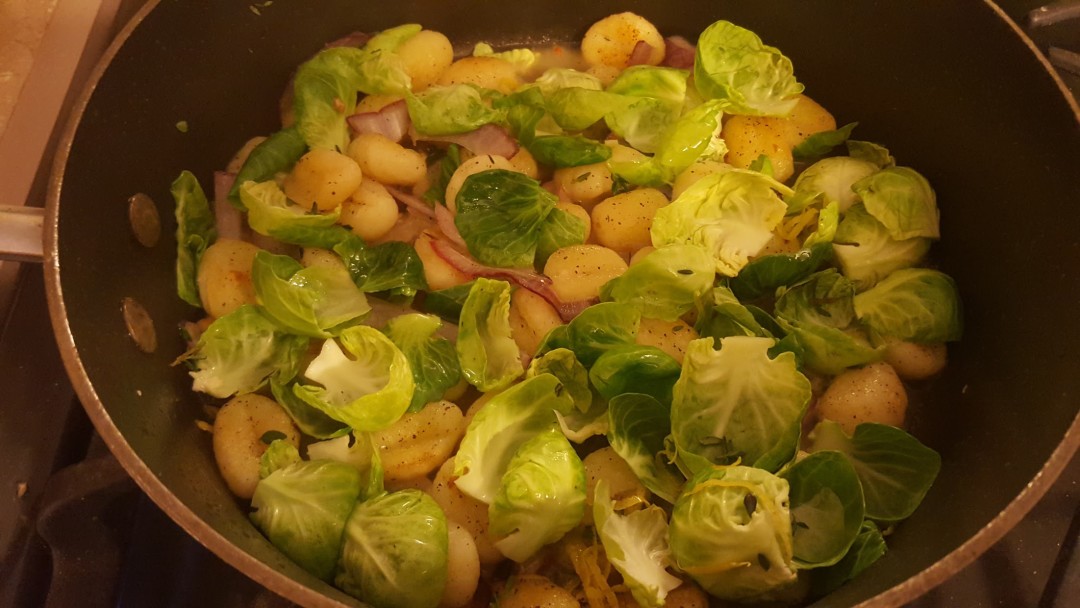 9. Plate the Gnocchi. Divide mixture between two plates. Garnish with parmesan & lemon wedge.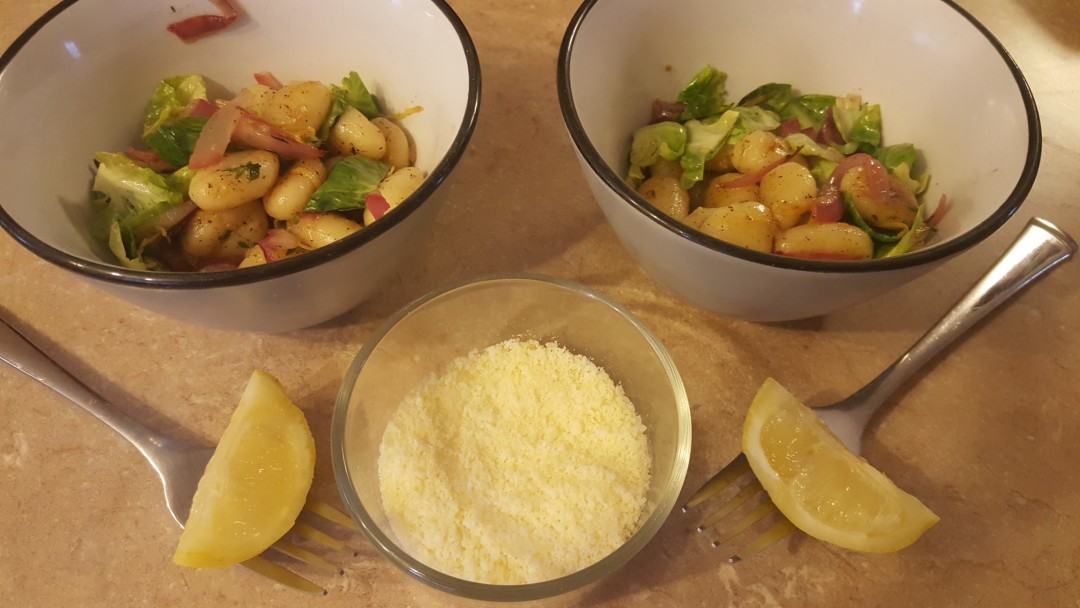 10. Enjoy!
Cheers & thanks for reading!