We've fallen in love with Mackinaw City. This is approximately our fifth time up to the boat whilst it's been in storage and it gets better and better each time we visit. One last trip back to Rockford and then we're here for a straight week before officially embarking on our adventure. It has not been crowded by tourists as of yet but we know that time is coming in the very near future. On each visit we've found enjoyment thru restaurants, boat work, and different attractions around the boatyard. It feels as if we're becoming locals from everything we've explored and the knowledge we've built up about the city. We look forward to enjoying this area between our journeys throughout the Summer!
This week we moved our boat out of storage and to Shepler's Marine in downtown Mackinaw City. We would have liked to get pictures of this process because the boatyard is quite far from the marina and would have been fun to see Tipsy Gypsy being hauled down the road. We couldn't tell when they'd actually make the move so instead, we arrived late to find our boat had already been moved! The guys at Shepler's are top notch and we could not be happier to have them take on some of the jobs for us. They're prepping us for bottom paint and it's been fun to see the progress get done so quickly with their hard work. Seriously, it would have taken me so long! What a team of 3 experienced guys did in 8 hours would have taken me 10 days. Launch is only 3 days away and we have SO many things to still take care of. It's been a bit overwhelming but we're happy to see so much progress this week. Here's a look at the new paint job – final coat is Thursday!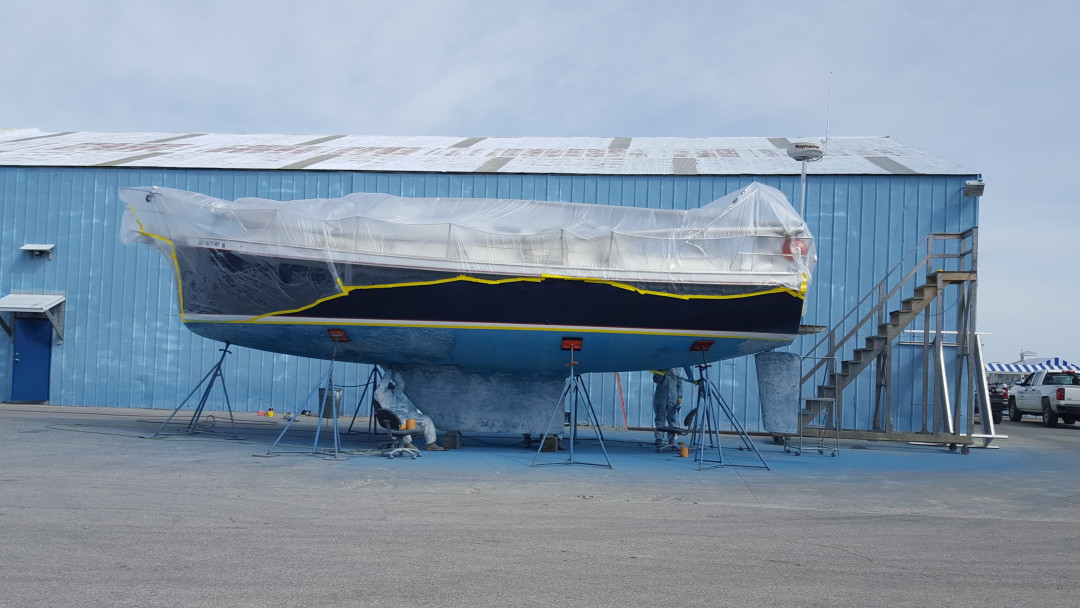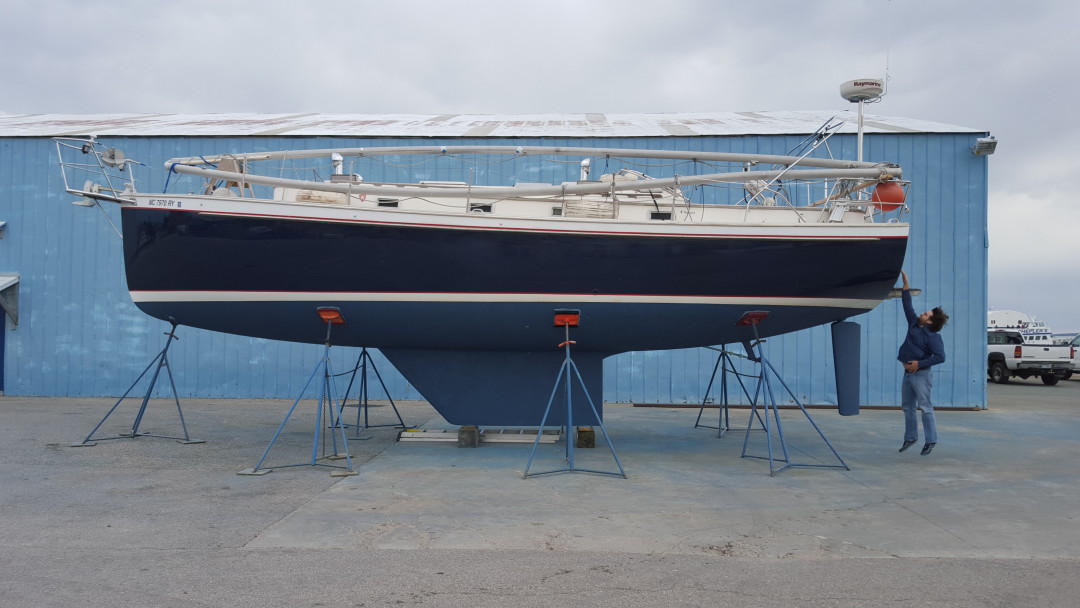 As Tharon is still working, I've been exploring the city on my bike and enjoying all the picturesque tourist areas. I've also been relaxing with the dogs and catching up on some of our projects. Lots of window shopping for me this week. We're saving money and making sure we're able to afford all the necessities that come along with sailing. Some of the major purchases we have this week include new batteries, bottom paint, and the new drone! I've mentioned a couple times that we'll be started to share our sailing journey via video. This feature will be a major contribution to our videos. Absolutely not a necessity but will be quite a lot of fun to fly around throughout our travels. I'll be sharing most items on our SV Tipsy Gypsy Facebook Page so please give us a like!
We've still had quite a lot of time to enjoy each others company thru all parts of the attractions in Mackinaw City. He's been changing up some of his schedule to enjoy more time during the day with me too! We'll see how the new schedule works day to day. Lots to look forward to this week – Launching, Moving, and SAILING!!
Cheers & thanks for reading!