Our travels from Mackinaw Island took us to the Les Cheneaux Islands in the Upper Peninsula of Michigan within Lake Huron. With not much to expect, we were thoroughly impressed by the scenery and solitude. This area has 36 islands to enjoy and could have spent weeks exploring more. It was a nice transition from Mackinac Island because of the seclusion. Although we very much enjoy people, it's always nice to steer clear from time to time too. We anchored in two different areas and were completely on our own without seeing much of anyone else on the water. Both were very smooth anchorages and had some of our best sleep on the boat yet.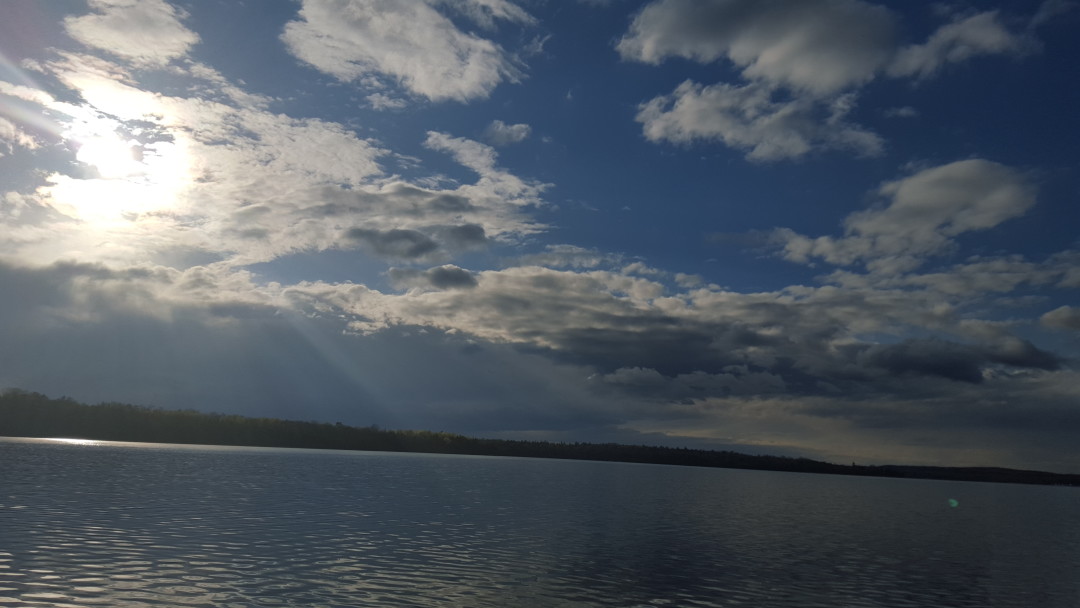 Government Island
When we arrived to Les Cheneaux, Tipsy Gypsy went from 3-5 foot waves on Lake Huron to a glassy cruise to our anchorage at Government Bay. We took the East entrance in to have a shorter trip back to Mackinac City later in the week. Right away we went to shore with the dogs and they instantly claimed much of the territory with their frequent stops to relieve themselves. I've not seen the dogs this happy in such a long time as we walked around the majority of the island. It made our day to see them so well behaved and so happy to run wild for the couple hours before being confined to the sailboat again. Each of the days at Government Island, we made sure the dogs got their fill of running around without a leash. Not proper etiquette for the island but how could I stop them, they were so happy!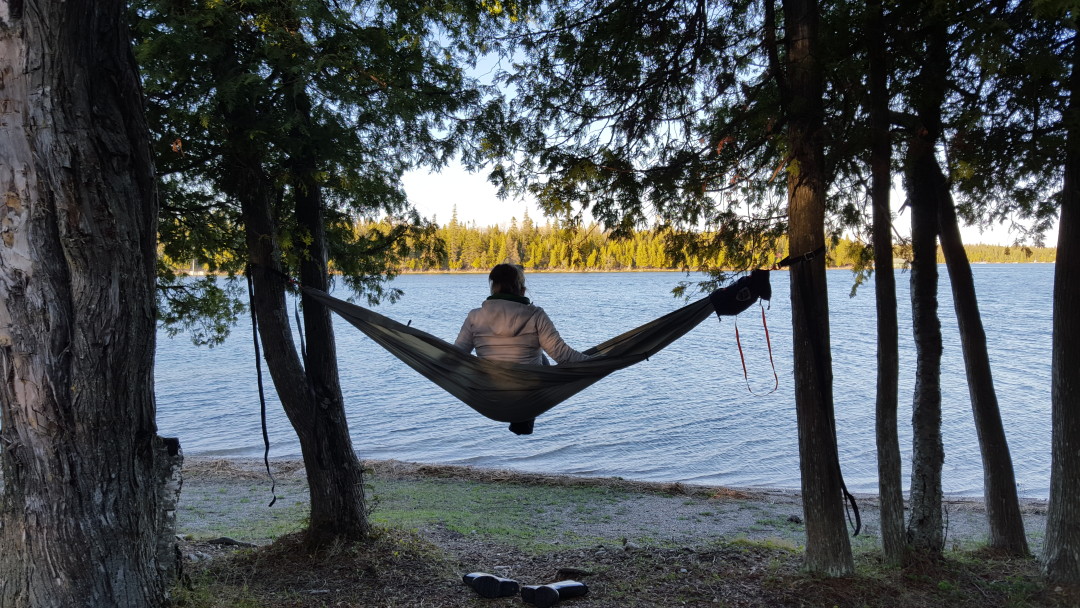 We enjoyed hiking, hammocking, exploring on the dinghy, and starting a bonfire on the island. Our most favorite part of Government Island though, were the sunsets. They were absolutely gorgeous each and every evening we were there. Sunsets have a way of tying everything the day brought to us to completion and helped me personally to know I'd like to cruise around full time for many years to come.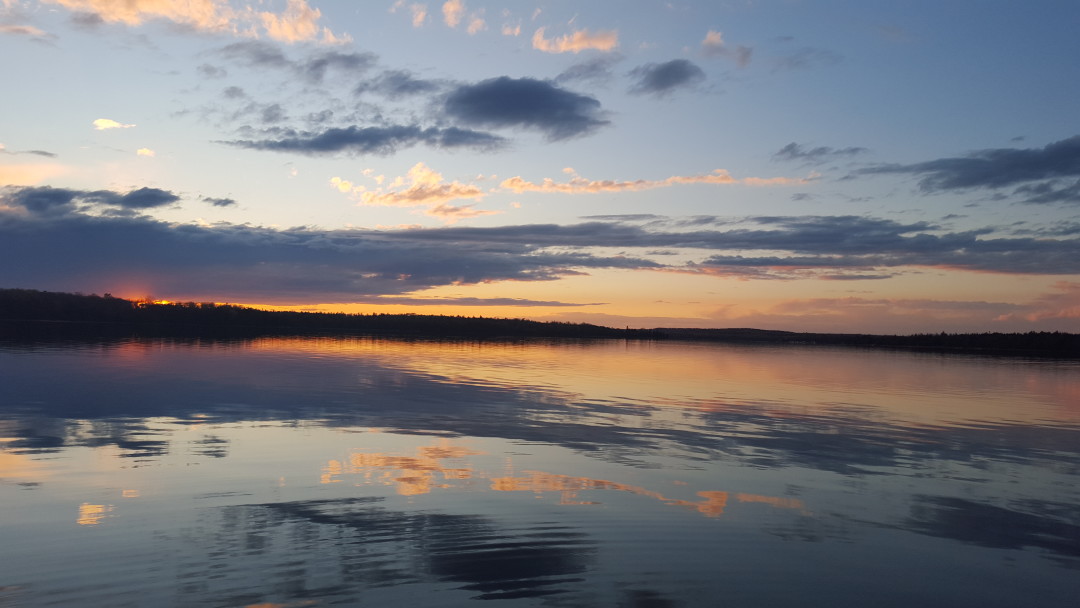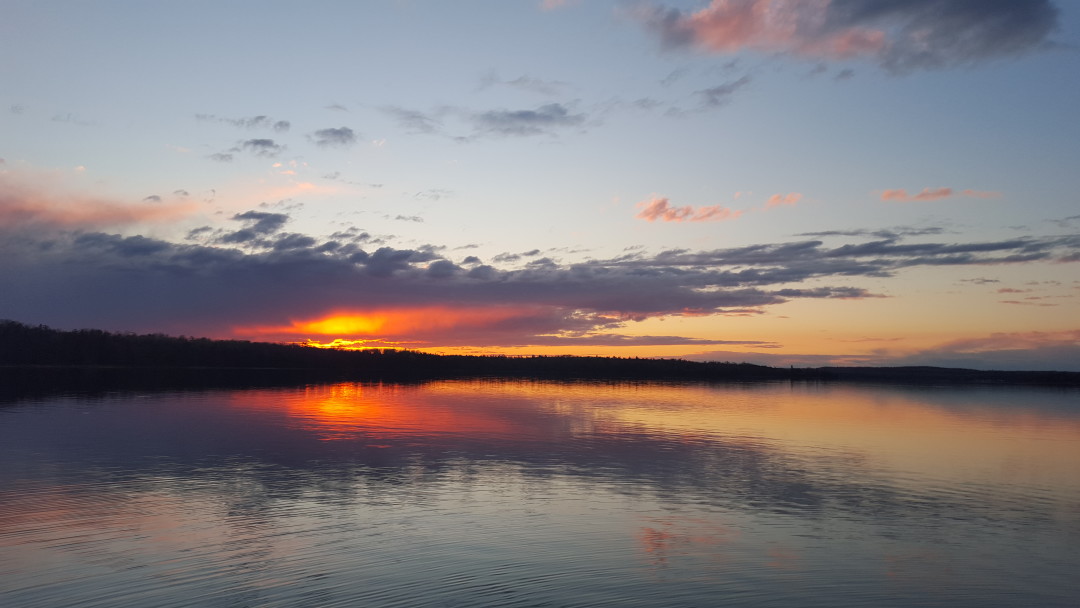 Hessel
Leaving Government Island was difficult but we pressed on to be prepared for upcoming responsibilities back in Grand Rapids for the weekend. We stayed closer to the West Entrance of the Les Cheneaux Islands and ended up in Hessel due to the overwhelming amount of suggestions before we started our traveling North. Most of the suggestions were great however had high hopes for a bakery that transformed into a reality company in the Winter before. There were a handful of other fun places to walk to so Elwood and I hit the town. We explored many places and particularly enjoyed an antique store called The Wooden Door. I'm always a fan of antique stores but felt like I bought so much more than normal. Elwood found a friend there too! Another dog with no collar, a missing leg, and ended up following us EVERYWHERE. Finally found his home but was nervous we'd have another dog on the boat. We also stopped in a little hobby shop called Pickle Point where we met a small Chihuahua named Rosie (SO much different than Elwood). Other than the two shops we mostly hung out at the Beach waiting for Tharon to be done working for the day.
Our final stop in Hessel was to The Islander. A bar and restaurant that was decked out with antiques of a nautical and aeronautical feel. Good food, great drinks, and enjoyed an extremely fun night of Bingo. Tharon and I soon realized that we LOVE playing Bingo and leaving began to get more and more difficult. We stayed for the entire night of Bingo, made some friends, and enjoyed the sunset ride back towards our floating home.
We LOVED visiting the Les Cheneaux Islands and look forward to returning to see more of these beautiful sunsets. If you're ever in the area, make the stop it's worth the trip! Cheers & thanks for reading!