Our stay in Chicago was very busy with fun. The timeline was a bit spread out to start but became a week and a half of relaxing, adventuring, and of course boat work.
No Land in Sight
On Thursday, we left the harbor with our crew and were ready to do the overnight passage. We sailed for the first few hours but decided we'd need to outrun a squall with the engine during the middle part of the trip. It was a smooth ride but the storm caught up to us around 3am. Although we were expecting the worst, we prepped well and ended up sneaking between a break in the storm where we were only rained on for a short while. It was quite eerie to see the radar with us in the middle of so much…color.
Another exciting part of the journey over was our lack of land in sight. It was a first for us on our own vessel but had compete trust in our gear to guide us. Although we had confidence in the crossing, the vast body of water showed us how truly small we all are. We are completely relying on ourselves to solve the problems that come about and in the middle of the water that can become a bit unnerving.
The next morning was beautiful. Still no land in sight but the calm waters made for a very relaxing part of the trip. Considering I had only slept for a couple hours in the night, I was ready for something to eat and a bed to lay in. As everyone woke up, I knew I wouldn't be able to go to sleep now. We were all excited for the arrival and knew it'd only be a matter of hours before we'd see land again.
It was hard to tell when we first saw land because the horizon was smothered in a dense fog. Chicago's shapely line of buildings appeared like a mirage and teased us alongside our lack of sleep. Finally we realized it WAS land and we had made it across! As we got closer, it was incredible to see so many boats playing in Lake Michigan and decided to hoist up our sails for the remaining hours inward. The journey was monumental for Tipsy Gypsy but only 110 nautical miles, nothing to celebrate about. Of course we did anyways.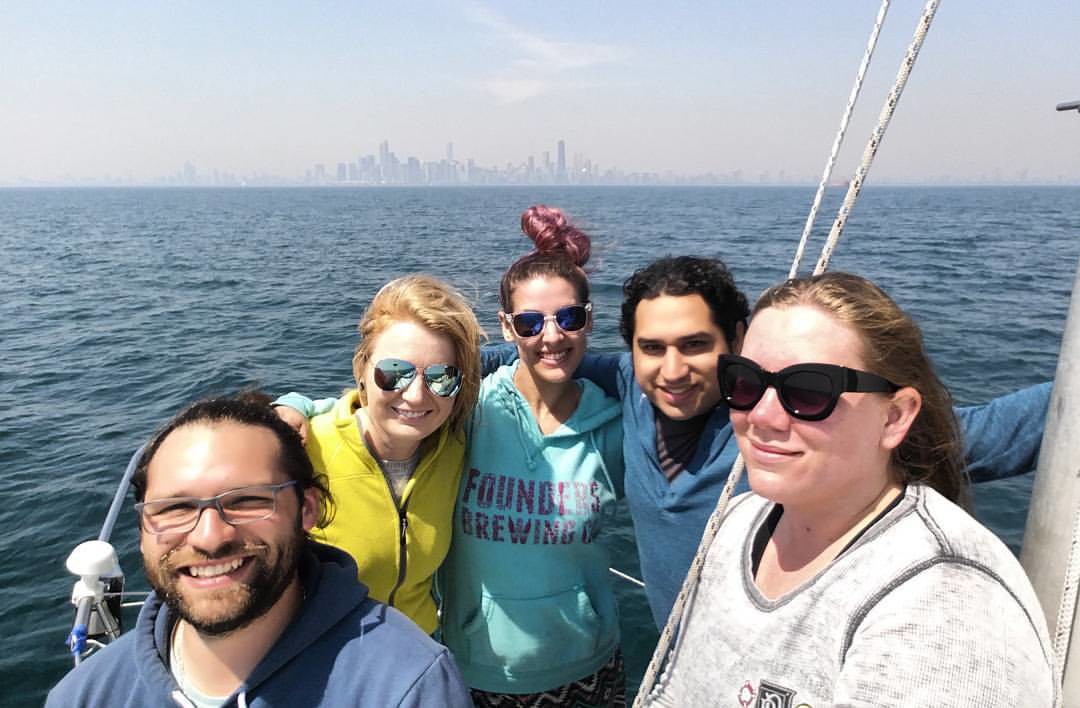 America's Cup
The nautical tournament took place from June 10-12, 2016 at Navy Pier for the first time ever on freshwater in the 165-year history of America Cup racing. The first two days were practice races where they'd get used to the race course set up and start the excitement for the weekend's activities. The third day was the actual qualifying race that would go in the record books and provide each team additional points to their current status before heading to Bermuda for the final races.
Day 1 – We moored off and watched from afar noticing that we actually had a great spot at Monroe Harbor. Much of the day was building in excitement for more friends to join the festivities. We enjoyed Navy Pier and met new friends who helped us along our travels, listened to great blues music, and drank the night away once our friends finally arrived.
Day 2 – Morning two gave us anticipation for a party on Tipsy Gypsy! We had 11 people on the boat, 2 dogs, & 1 cat. It's roomy enough to fit more too! Okay, not for sleeping arrangements but for a great day on the water anyways! We purchased the boater's pass which allowed us to watch the races from the comfort of our boat anchored just outside the race course. We made friends with surrounding boaters, escaped the warmth into the freezing cold waters, and had unlimited adult beverages. The company was amazing but the races were lacking. There was no wind. Being delayed all afternoon only meant we would continue to drink and wait. It was a very fun afternoon to say the least. They did get a race in too! We made plans to meet at Navy Pier again to partake in all the festivities. Such a FUN day 😀
Day 3 – This was a slower day for us as everyone was recovering from the previous day. Some people left early but we were ready for the official races! It was definitely windy enough for the races but it seemed a bit too choppy for us to take the boat out again. We instead experienced the races from Navy Pier. Watching the races was both crowded and exhilarating. Those things can fly!
Overall, America's Cup was a pretty epic experience. Definitely an amazing birthday weekend for Miss Lisa! I could describe the events in more detail but instead, enjoy some pictures!
>> The above pics were taken by Ron Kramer. Here are some others… <<
Boat Work
One of the truest facts about boats are that they are a lot of work. We were in Chicago for a total of 11 days with 4 days dedicated to fun but everyday was dedicated to boat work. On the way over, our engine was over heating and water was not getting pumped through the engine. It became a project that Tharon would spend hours on each day. It's a simple system, he'd say but only on our last day did he get the satisfaction of fixing the issue.
In the words of Mark Watney in The Martian; "In the face of overwhelming odds, I'm left with only one option, I'm gonna have to science the shit out of this."
Everything he tried bettered the boat in some way, finishing small jobs from years of neglected engine maintenance. As he completed each job, he'd explain to me what he had done and how it'd help. When he would check his work to see the issue resolved but instead be disappointed, he'd stay positive and go back to the drawing board. Nothing is easy to fix on a boat. You're working in tight quarters, have no car to run out for grabbing parts, it 95 degrees out, and many projects are the first time doing them so there's a learning curve. When he finally saw a steady flow of water cooling the engine, he exclaimed "WOO, YEAH!"
Chicago is beautiful and always love visiting. It was time for us to leave though. After having some high winds pass thru, we were on our way again.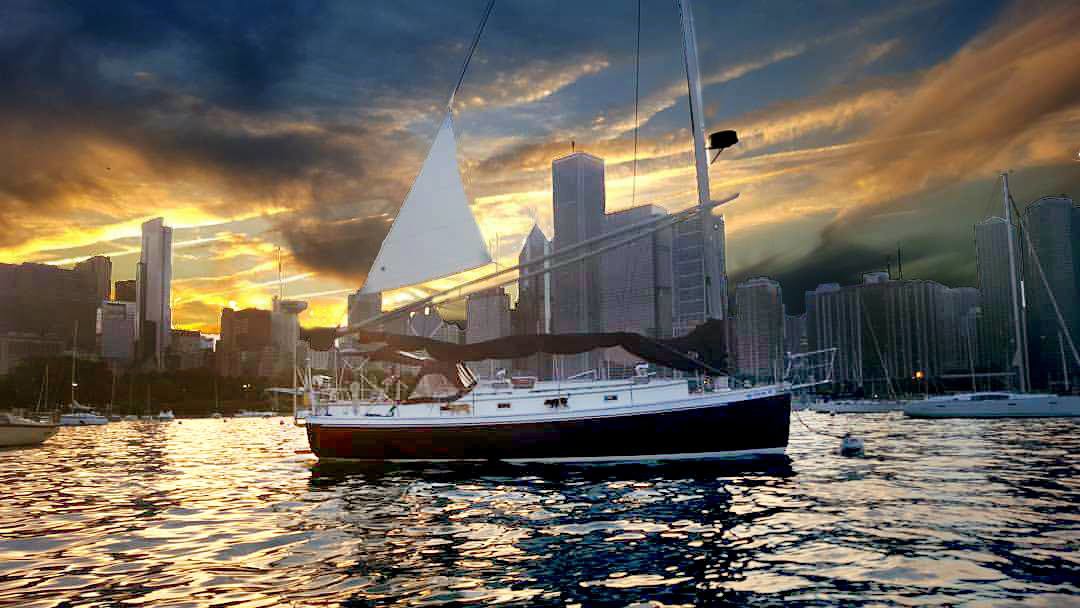 A special thanks to all who joined us to enjoy the races! A BIG thanks to everyone gutsy enough to jump off the bow! An even BIGGER thanks to the crew who helped us over! We LOVE you!! Thank YOU for reading too, cheers 😀