If you've missed either of the other North Channel posts, here they are –> North Channel Travels #1 & North Channel Travels #2
Although it seemed like we had hit the peak of our travels in the North Channel, it was actually just beginning! The Benjamin Islands became our favorite spot to travel but Killarney and Baie Fine are just as gorgeous with even more beautiful scenes to take in.
But first, we made a pitstop. Little Current was our go between the Benjamin Islands to Killarney. Here, we docked at the marina and immediately were hailed on the radio. It was our friends Stir Crazy from Mackinac City. They greeted us at the docks and we made plans to have dinner and drinks at the Anchor Inn Hotel. We also noticed that we were docked close to Runcible and visited with them before they were off again. Their spirits were a bit lower than normal because they had ripped their sail along their travels and were preparing car travels to Toronto. We sent them our love and ran errands before embarking on the remaining part of our journey.
Little Current has lots to offer for incoming sailors. There's a couple grocery stores, an LCBO (Liquor Control Board of Ontario), shopping, and restaurants. We needed to replenish food, beverage, and I of course always enjoy shopping. While Tharon worked, I hiked up the hill to grab food for the next week. It was a quick walk there and soaked up the beautiful scenery and unique swing bridge. On the way back down, it was much slower as I had a full load of groceries to carry back with me.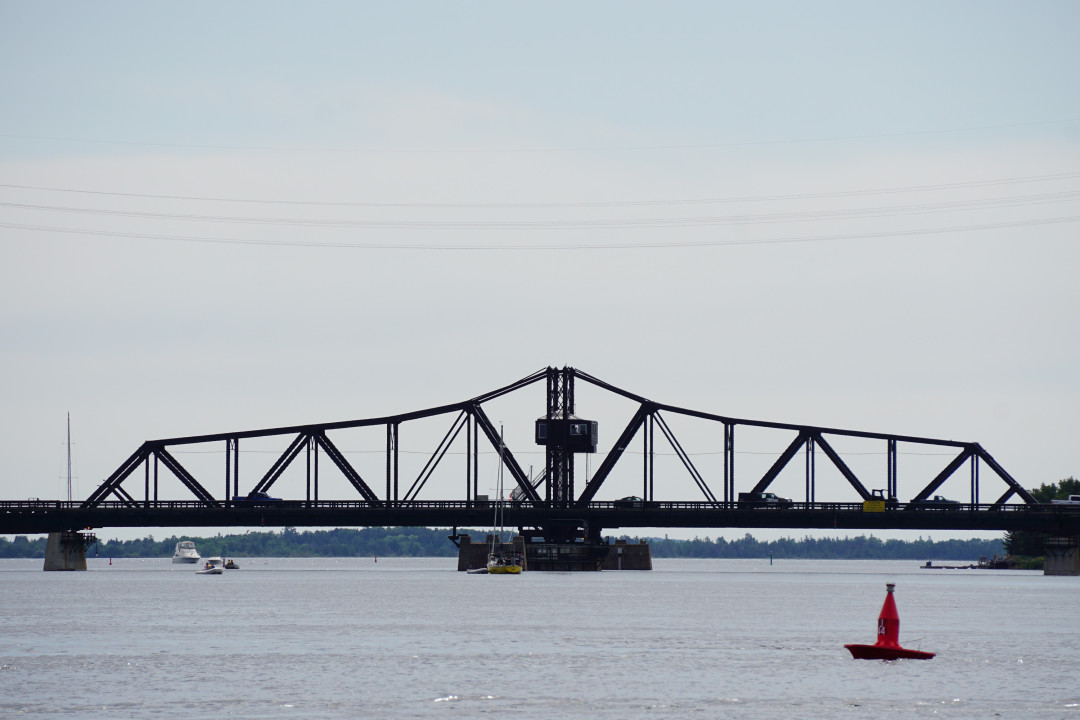 Back on the docks, a few of the cruisers beside us were making Caesars. This seems to be very similar to a Bloody Mary but insisted to make me one to taste the difference. I of course agreed to having and learned they are only somewhat different. Here's the recipe of the one they made for me –
Bloody Caesar Recipe
1.5 oz. Vodka
Calamata Juice
Celery Salt
Hot Sauce
Worcestshire Sauce
Pepper
Pickles
Pickled Asparagas
Bleu Cheese Olive
Celery Stick
Lime
Bloody Caesars are just as delicious as Bloody Marys but clamata juice is tomato juice with the addition of clam broth. Give it a try, it's a lot smoother than it sounds!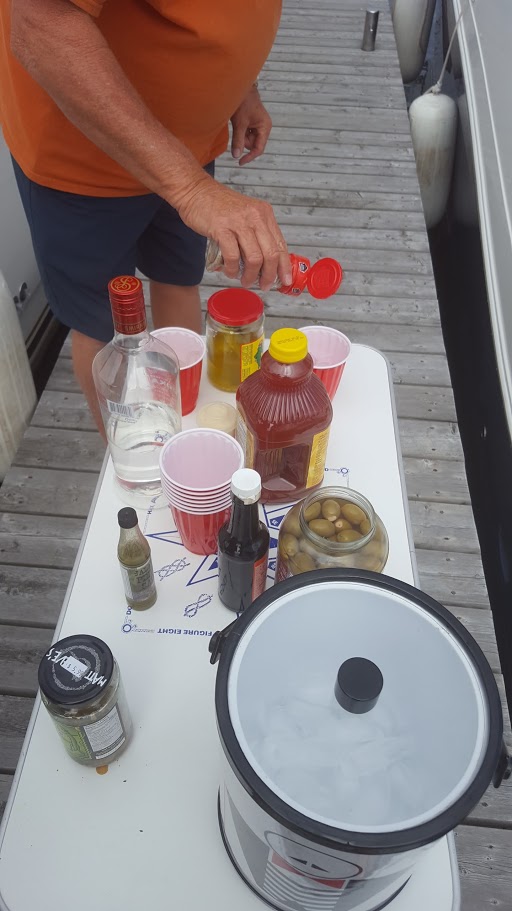 We had an early start up to the Inn to grab a beer after the work day. We had stocked our fridge up with beer in Leland but were running out quickly so a cold beer was sounding very nice. Stir Crazy (Chris & Lorraine) and then Kinnagoe Bay (Jeff, Cecily, & Owen Evans). We didn't know any of them well but knew they'd be good friends from the start. Dinner & drinks were amazing. Tharon and I mostly enjoyed Swing Bridge from Manitoulin Brewing. We got to know each other, laughed nonstop and talked about upcoming travel plans. Later after the dinner, we enjoyed more brews on the Evans's boat. They had an entire cooler filled with Ontaro Microbrews!! We learned more spots to stop at had a great night getting to know them. It also encouraged us to grab more beer for the travels.
Killarney was a decent distance away so we left mid afternoon and caught the 2 o'clock bridge. It was a very nice sail over to Killarney. Wind was perfect and the sea state was calm. Once we arrived, we had an even more calm anchorage at Covered Portage Cove. We had gorgeous views all around. The pictures will show you the amazing views but in person is far better.
We spent two days in Killarney enjoying the calm anchorage, fishing (still no fish), hiking, and swimming. At one point we were at the top of one of the mountains and thought about jumping into the water BUT we decided to go lower before making any jumps. Killarney was very relaxing for us. Dinghy exploring could be done close by and found some more little nooks for privacy around the busy anchorage. We saw many cruisers come and go but we stayed and enjoyed every minute of 'staying still' for a day.
A highlight of this portion of the trip was Herbert's Fish & Chips. Everyone recommended to go there but it was quite a dinghy ride away. We decided it'd be worth while and it was! We enjoy fish and chips often but somehow they have completely perfected it. The best fish & chips I've ever had and probably will ever have. I can still taste it and crave it from time to time. I've actually not ordered another basket since because I know I'd only be disappointed. SO GOOD. We spent time eating the freshly caught fish with a bunch of campers around the area. They were so nice! We said goodbyes but I'll always remember them.
Next on the schedule was Baie Fine. It was a very blustery day and gave us 30+ knots of wind. We had to motor as we do not have a third reef set up in our sail yet. It was wavy and a very uncomfortable trip over. We were relieved to hit the entrance to Baie Fine but even with land on each side, it was still quite rocky. Finally we made it to Marianne Cove and allowed us a secluded anchorage. We could still hear the wind but we were safe here and went off to dinghy explore.
We found great camping spots with firepits, trails for day hiking, and heard what sounded like a waterfall. Taking the dogs out was the easiest yet. There was a small island near our boat that allowed us to drop them off to run around anywhere they'd like. It was their own little island to enjoy. However, we did find a very large snapping turtle that we had to scare away first. Continuing our travels on Dingus, we saw a large amount of people anchored out at The Pool. This was not as secluded but was a very beautiful sight to see in the middle of such close proximity. We also looked for a trail that would lead to a dead lake called Topaz Lake. We weren't exactly sure where to go but we would try again the next day.
In the morning after taking the dogs to their private island, our neighbors called us over. They were hiking to Topaz Lake and invited us along with them. How perfect was that!? Alongside our initial meeting with them, we asked them about the nearby waterfall. This was not their first time here and mentioned to us that there was no waterfall nearby. Their ladies kayaked over while they dinghyed and fished. We decided to fish along the way too (still nothing). We made it all the way back down by The Pool and they showed us the trail. The hiking was easy but decently steep. Soon enough, we made it to the lake!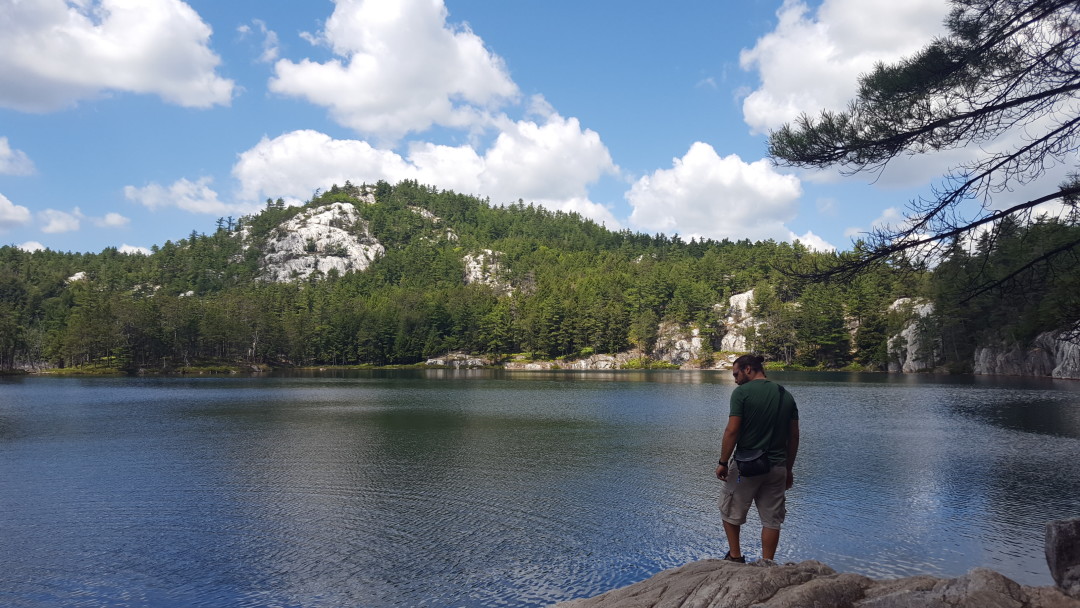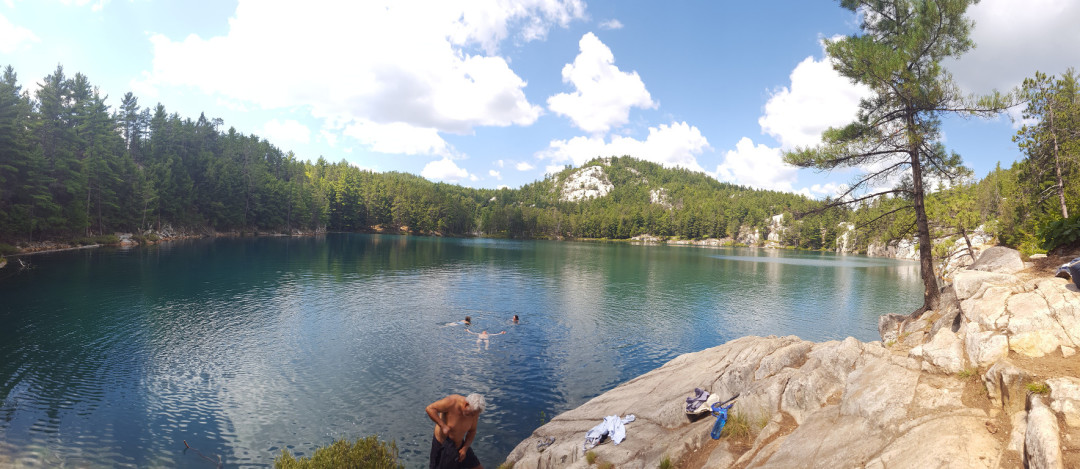 Topaz Lake is actually called something different on the map and that was the reason why it was more difficult to find. Once we got there though, the bluest of blue lakes was one of my favorite views to see. Surrounded by forest and rock, it was decided that we'd have to swim. I definitely lasted the longest, swimming for almost an hour nonstop. Many other cruisers came by and started jumping off the high cliffs but we stuck to swimming and jumping off the small rocks surrounding the spot we'd laid out. Our new friends invited us over for sushi and a small lunch they had packed. I was incredibly hungry after all that swimming so agreed to join in. After lunch, we hiked back and thanked them for the fun afternoon. All the rest of the day, we waxed our boat and took care of general boat duties.
We kept thinking about the sound of rushing water near the campsite explored previously and finally decided we needed to find the source. This hike was treterous. We started in a nearby campsite and diagnally made our way up what seemed to be a trail. Traveling through spiderwebs continuously, the trail stopped at a steep hill of white boulders and decided to cross upwards away from the familar water below. Luckily we had each brought one trekking pole to assist along the way. Two beers were also packed in case we actually found something to celebrate over or sob into when we didn't find anything. Crossing the boulders took a while and gradually we ascended them towards the sound of water. It became more of a mountain climb for a bit but the sound grew louder. Then through the trees, we saw rushing water and knew which way to head towards. UP. Climbing further towards the water was a bit easier now that we actually knew where to go but it was still steep. Finally, we found a very small waterfall! It was little but soon realized if we continued to climb, there would be a larger water source. We climbed and found an even larger part of the waterfall. It was incredible to find such beauty!! This waterfall was surrounded with no trails leading towards it and was absolutely beautiful. Had we discovered it?
Looking above, water fell over large jagged stones showering down to a smooth granite floor. The ledge of stone towered over the smaller part we had seen previously and water continuously flowed downward. It would be the perfect spot to enjoy our beers as this was our victory of The North Channel. We cheered at each other and drank our beers. Soon after that, we decided to continue up to find more of the source. In the end, we made it to the top of that part of the mountain too. There was a trail quite far up and spotted trash where humans were previously but still wondered if anyone had made the trek to the waterfall. Yes, they probably did but Tharon and I like to say we discovered it. We have yet to name it though, let's call it Thary's Waterfall. We do not have any pictures but will showcase video at some point. We swear it exists! The hike down was just as difficult if not more difficult but we've lived to tell this tale.
Sad to say, we had to leave the next day. We know that once we're getting comfortable in an area it's about that time to leave again. On our way to Kagawong.
Cheers & thanks for reading!