Ingredients
4 Flour Tortillas
4 Ounces of Montery Jack Cheese
6 Ounces Mixed Peppers
4 Ounces  Tomatoes
1 Shallot
1 Lime
1 Bunch Cilantro, approximately 15 stems
1/4 Cup Mexican Crema
2 Eggs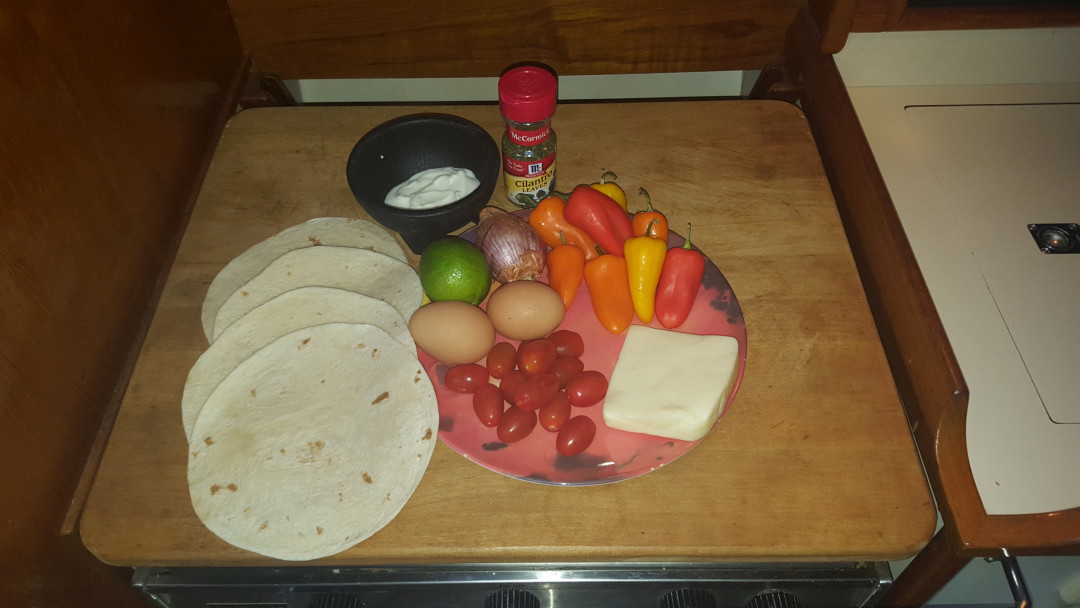 Directions
1. Prepare the ingredients
Wash & Dry the fresh produce
Montery Jack Cheese – Grate
Mixed Peppers – Cut stem ends & discard seeds. Slice into rings.
Tomatoes – Quarter
Shallot – Peel & thinly slice
Lime – Zest 2 tablespoons of the rind, then quarter
Cilantro – Roughly Chop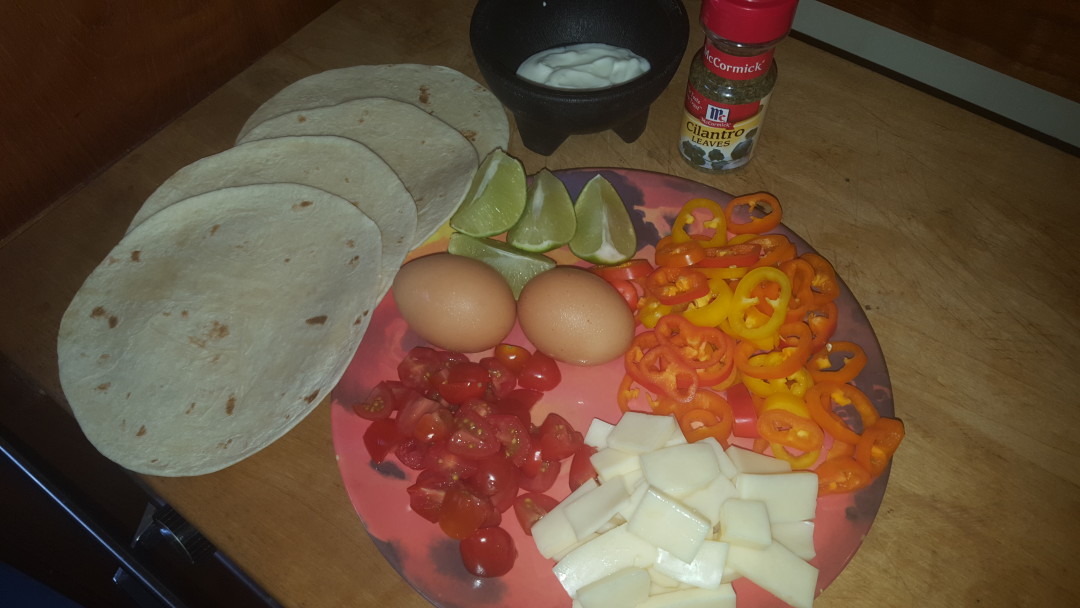 2. Lime Crema – In a bowl, combine Mexican Crema and lime zest. Season with salt and pepper. Set aside.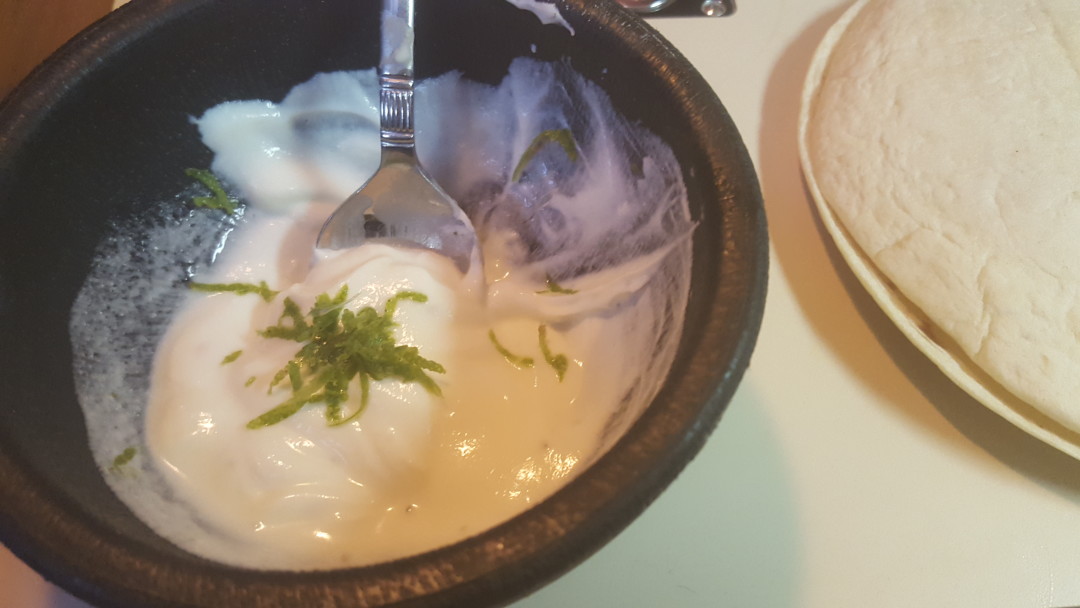 3. Salsa – In another bowl, combine tomatoes, cilantro, andjuice of two lime wedges. Drizzle with olive oil & stir ingredients together.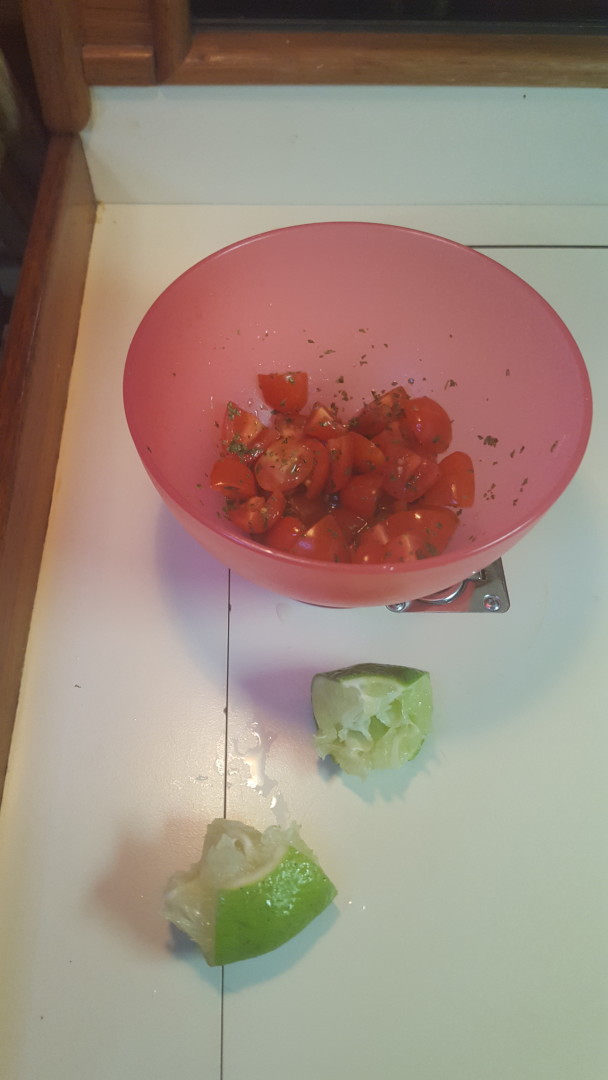 4. Cook the Vegetables – In a large non-stick pan, heat two teaspoons of oil on medium-high heat. Add the peppers and shallot; season with salt and pepper. Cook, stirring 5-7 minutes or until vegetables are lightly browned and softened. Transfer to a bowl. Rinse and wipe out the pan.
5. Assemble Quesadillas – Place the tortillas on a clean, dry work surface. Divide half the cheese between 2 of the tortillas. Fill with cooked vegetables and remaining cheese. Top with second tortillas.
6. Cooking Quesadillas – In the pan used to cook vegetables, heat two teaspoons of olive oil on medium-high until hot. Carefully add the quesadilla and cooke 2-3 minutes per side or until tortilla is crispy and browned and the cheese has melted. Place cooked quesadillas onto two seperate plates.
7. Finishing Touches – Wipe out your pan. Heat 2 teaspoons of olive oil on medium-high until hot. Crack the eggs into the pan, keeping them seperate. Cooke 2-3 minutes or until whites are set and yolks are cooked to your desired doneness. Turn off heat and season with salt and pepper. Place on top of each quesadilla.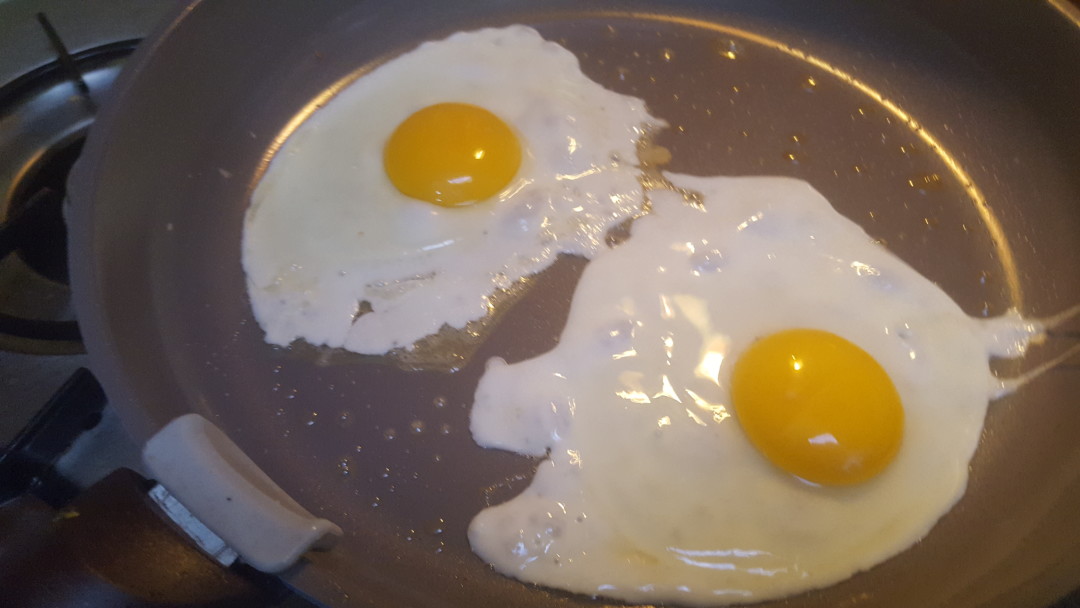 8. Garnish – Top eggs with salsa mixture. Serve with lime crema and a lime wedge.  Enjoy!
We always enjoy having protein added any way we're able and while I'm vegetarian, I still eat eggs. These quesadillas are delicious and we're never afraid to add different ingredients to try new combinations!
Cheers & thanks for reading!