If you haven't already read our time in Put-In Bay, check it out here – Ohio is for Lovers #1 – Put-In Bay.
Our next stop was to Cleveland. By this time, we were in need of time off for some rest and relaxation. We chose to dock up to the Rock & Dock Marina directly behind the Rock & Roll Hall of Fame. It was quite pricey at the marina but would be give us immediate access to downtown. There we met some amazing cruisers going the other way around the Great Loop. They gave us advice on the Erie Canal and we each shared our cruising plans. You can check out their blog here.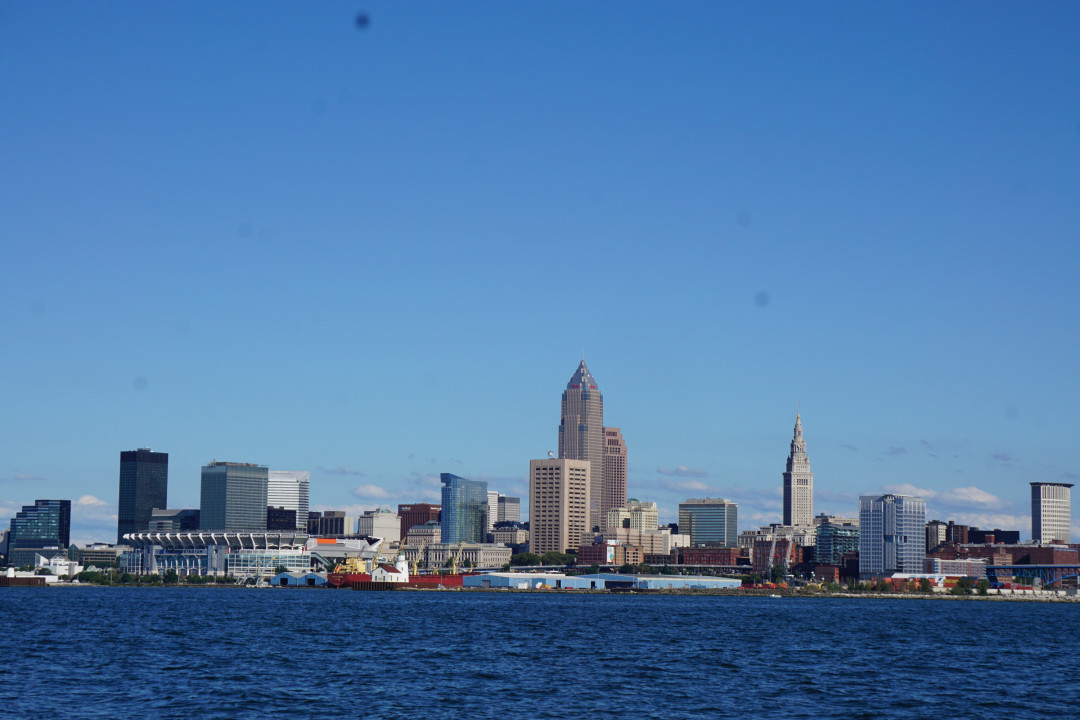 We stayed at the Rock & Dock for two nights but would need to find an alternate spot to move to as it was far too expensive for our wallets. Plus, there weren't the greatest amenities available even with it being a newer marina. It was downtown though and that meant us finding great restaurants to enjoy via bike. Exploring Cleveland was very fun. It has a really nice downtown area and gave us plenty of options for restaurants and entertainment. For the most part, we relaxed but there were some decent highlights this portion of the trip. Check out the places we stopped at here.
It was nice being downtown but we needed to find a more affordable option. The alternative place was Lakeside Yacht Club and while providing less expensive dockage, it also has amazing service and some of the best amenities yet. Their facility is newly renovated and provided us a pool, clubhouse with restaurant, laundry, and nice restrooms/showers. All we wanted to do is relax more at the yacht club but ended up having to rent a car right away for our travels back to Grand Rapids/Chicago for the week. We had chores to take care of before getting too far away & my best friend was getting married!!
Drive 8 hours to Lansing (while Tharon works)
Pick up Packages from Tharon's Dad in Lansing.
Drive to Grand Rapids to deep clean house for new renters
Drive to Chicago to help with my best friend's wedding
Abby's Rehearsal Day & Wedding Day
Drive back to Cleveland
It was quite the whirlwind of activity and although much of it was work, much more of it was fun. Again, we were in need of relaxing. These would be our last responsibilities outside of the boat & Tharon's work so we were excited about the freedom of having less to worry about. Arriving back to Cleveland was amazing! We were so happy to have our land ties taken care of so that we could officially start our journey South!
It's most affordable to rent a car for a week rather than 5 days so we kept the car a couple extra days. This allowed us to run errands and check out some of the places we still wanted to go to downtown. In the upcoming blog post, I'll share with you an epic date day I planned for Tharon and I.
Until then, thanks for readying. Cheers!