Check out other blog posts from our New York travels – Buffalo – #1, Niagra Falls – #2, & The Historic Erie Canal – #3
Sailing the Hudson River
After leaving the Erie Canal, we made our way down the Hudson River. This is another historic waterway and provided us with majestic views of the Catskill Mountains and a speedy current towards New York City. We first made our way to Catskill's Hop-O-Nose Marina to put our stick back up. There we were greeted with open arms from marina slip holders and others waiting to get their masts stepped alongside us. We spent two nights there getting Tipsy Gypsy put back together again. We washed her, took care of some maintenance, and officially got the entire deck decluttered of all the lines, blocks, and other remnants of the Erie Canal transit. It was nice to have everything back in working order! While others stayed longer to relax and enjoy the affordable slips, we decided to leave the next morning to start our trek down the Hudson River.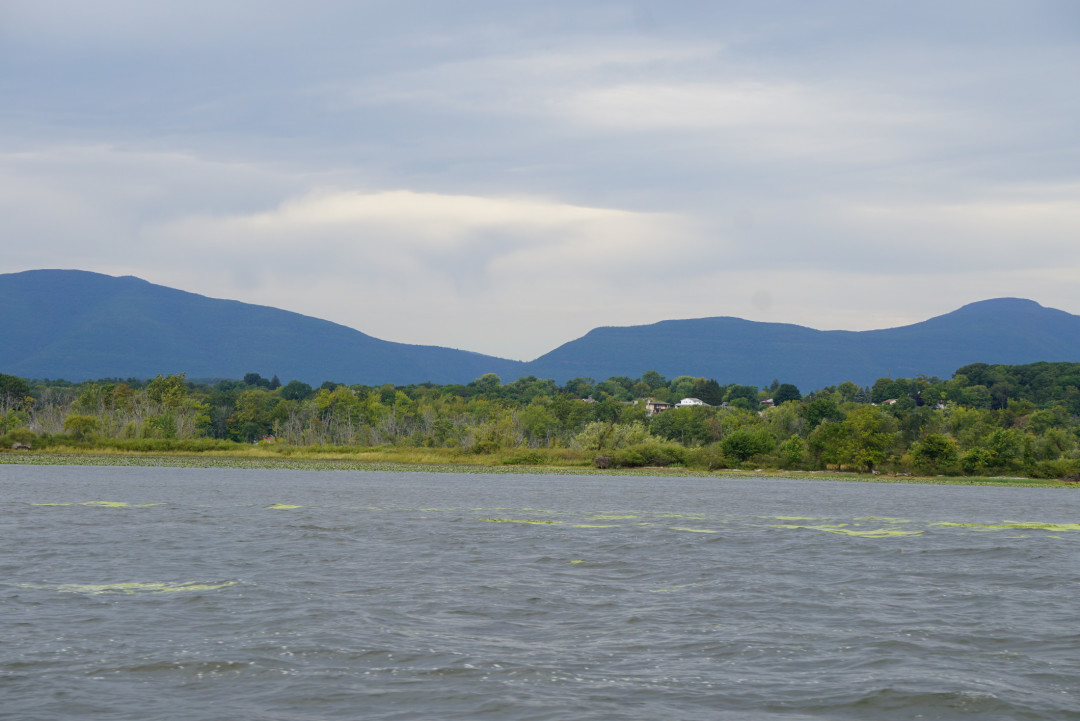 The Hudson River is 315 miles flowing North to South mostly through Eastern New York. We traveled approximately 110 miles of the river and thoroughly enjoyed the scenic parts of upstate New York. Our first and only anchorage on the Hudson River was in Haverstraw Bay. This Bay is located in the widest portion of the river, measuring 3.4 miles across. We anchored close to a beautiful park for the dogs to enjoy and witnessed a beautiful sunset.
New York City
Leaving at 7am the next morning, we were ready for a busy day of sailing to New York City! It took us approximately 5 hours to get to NYC and had some of the most exciting views of our journey. New York really surprised us with its beauty and it's incredible how many of our favorite stops have ended up being there. Getting into NYC was fun, but a little hectic due to the copious boat traffic. We handled it well and made our way through just fine.
Where Would We Stay?
Originally we had planned to stay in Sandy Hook Bay because prices in NYC were much higher than we wanted to pay ($3/foot). We would wait there until we got a decent weather window to make our way down the coast to Cape May. However, we realized that Hurricane Matthew was approaching and it's shadow would cause us to wait around longer than we wanted.
We started looking into the option of continuing on to Cape May during the night. Although the winds were moderately high at 25 miles per hour, our weather applications, Windy and Predict Wind, gave us statistics that told us we would have to leave right away if we were going to make it within the next week. Unfortunately the wind would be in our face the whole time. That meant we would not be able to sail but still knew it'd be good to cover the miles earlier than later. So after making our way through NYC, we kept going strong along the coast.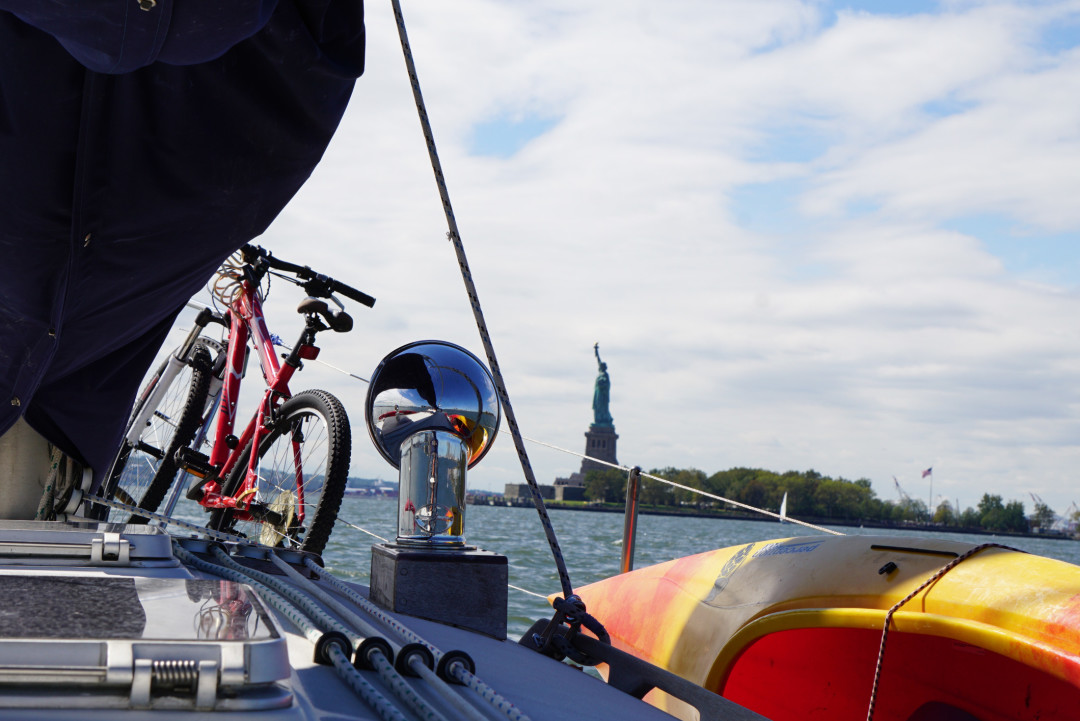 The Atlantic Ocean
Oh yeah! This was a huge stepping stone for our travels! Tipsy Gypsy was no longer in fresh waters and we made it to the Atlantic Ocean!!
It wasn't the best decision for us to leave that day but it did get us to Cape May much quicker. There was a small craft advisory for near shore which did not give us confidence at the very start. We could feel the waves building after the city and all the way through the night. It was a very uncomfortable ride and I unfortunately was seasick the entire time causing Tharon to have to steer in my absence. There were many times where we thought we'd head into a port but kept encouraging each other to keep moving forward. It was a lot of work and we each did not get a lot of sleep that night.
We've got a long way to go with getting better with over night passages. Through out the night, the wind died down some but still gave us rolly waves and a rocky trip.
Sunrise + Dolphins
Just before sunrise, we could hear the engine chugging some. Immediately we knew what that meant: we were running out of diesel. We were so ready to be there and now we were a bit nervous of ever making it. Just kidding, we're a sailboat!! No matter what, we were determined to get in to safe harbor and immediately hoisted up our sail to save our remaining fuel to get into the next anchorage.
As the sun was rising, we could see the entrance to the channel. The wind was doing well pushing us in but only had around 8 knots. The channel would be tight for sailing and there was a bit of boat traffic so we tried starting the engine again. This would give us some momentum through the opposing current. Then, after a panicky moment of not getting the engine to start we decided we would have to sail in after all.
Hoping the anchorage wouldn't be too far, we inched towards the channel around 7am. It had been a miserable trip all night, we were exhausted, and now we had an even tougher challenge to deal with. Morale was low but instantly changed when we were greeted by a pod of dolphins. Our irritated, grumpy, tired faces turned into starstruck child-like smiles and nothing else could take this worthwhile adventure away.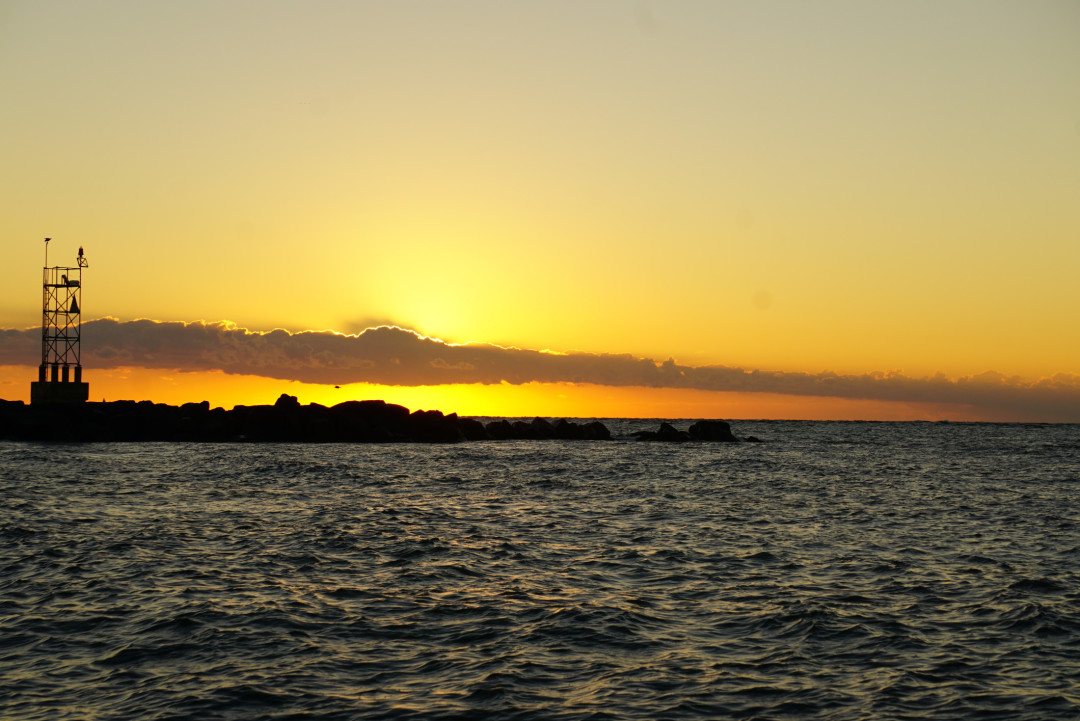 Relaxing on Anchor
Although we did have to sail the entire way in with very little wind and a strong current, it was still an amazing feeling to make it to Cape May. Our speed was 1.5 knots but were on top of the world to have the company of those dolphins. We didn't care about the lack of sleep, slow speed, or the fact that we had no fuel. We were happy and nothing could bring us down. Eventually we made it to our anchorage to rest. After a long nap, the reality of leaving fresh water settled in. We had made our first passage in salt water and persevered through one of our longest trips yet. It's amazing to see how far we've come and keep looking forward to each step of the journey.
Cheers & thanks for reading!