It's 2017 already!? It's been an incredible change of pace since making it to West Palm Beach, Florida. Instead of the frigid Winter months in Michigan, we've instead been enjoying palm trees and warm sunny days. WOooOooOOo!
Okay, it sounds amazing but it's been lots of work to get here! After leaving Annapolis, we made our way to Norfolk, VA to begin our travels down the ICW.
Travels Down the ICW
It was a cold day on our travel to Norfolk and we immediately wondered why we didn't leave Annapolis sooner. After such a break, it's difficult to get going again but it was already getting colder and knew any longer would cause us to call it quits for the season. Our ambitions were high on getting to the Bahamas so we pressed on. We began transiting the Intercoastal Waterway on Saturday, November 5th. We planned on 30-40 days to get from Norfolk, VA to West Palm Beach, FL. It's nice to have zero days and to enjoy the eclectic towns along the way. It can easily be done in 10-20 days for the ambitious sailor, probably even shorter but who's counting!?
Okay, let's back up. The Intercoastal Waterway (ICW) is a 3,000 mile stretch of inland waterway along the Atlantic and Gulf of Mexico coasts of the United States running from Boston, Massachusetts southward along the Atlantic Seaboard and around the southern tip of Florida, then following the Gulf Coast to Brownsville, Texas. Some sections of the waterway consist of natural inlets, saltwater rivers, bays, and sounds, while others are artificial canals. It provides a navigable route along its length without many of the hazards of travel on the open sea (via Wikipedia).
The ICW provided a well-protected variety of cruising while allowing us to enjoy historic seaside towns along the way. We highly recommend to other cruisers and anyone who might enjoy the "safer" side to sailing. Although this path may seem easier than cruising the Atlantic Ocean, it does not mean it's a cakewalk. We encountered several tricky parts including shoaly inlets, misplaced buoys, higher tides than stated, and a large amount of @$$hole power boat wakes. Be aware of your surroundings always and take your time while transiting!
Top 10 Stops Along the Way
Charleston, SC
This was actually rated the #1 city in the world by Travel + Leisure. It was also our favorite thanks to our friend Bill Veneklasen showing us around for a couple days! We enjoyed an extensive tour of beautiful stops and yummy places to try. One of our favorite stops was having dinner at the chef's table at Edmund's Oast. Another favorite spot was the House of Brews, an old house with a small bar and different kinds of beer in each room.
Beaufort, SC
Three days total were spent here and provided us some wonderful Southern hospitality. Our favorite spots were Hemingway's Bistro for their hidden atmosphere and Common Ground Coffee House.
Carolina Beach, NC
We stayed in this area for a couple days to enjoy their hiking and very affordable dockage. Although it was a bit tight for our sailboat, we were happy to make it work. We enjoyed Good Hops Brewing for a nearby scooter ride but mostly liked the proximity of hiking trails.
Roanoake, NC
The history of this area intrigued us to stay a couple nights. It provided us an eerie tour on their island park and allowed us a gave us Full Moon Cafe & Lost Colony Brewing to get us stocked back up. It was the first stop in the Outer Banks and was well worth the extra miles.
Wrightsville Beach, NC
We stayed here for a week and a half for me to travel back home. This area is near UNC Wilmington and gave us a younger crowd to make friends with for a bit. We also liked this area because of the beach nearby and delicious coffee & tacos at Tower 7. Weird combo.
West Palm Beach, FL
Tharon's sister lives here! We were able to visit with family, have our friend Arce visit, and Tharon's brother join us for our Bahamas travels. So, obviously a favorite spot! We also got so many boat projects completed and had downtime to enjoy Christmas & New Years. Definitely an awesome place to live for a couple weeks. We'll anchor here again due to their secluded islands spread throughout the ICW path.
Palm Coast, FL
We stayed one night at the Palm Coast Marina. Their hospitality was amazing and met great people the entire time. It was difficult to leave that place and we never actually left the marina! There was a Nonsuch 33 docked there named Gypsy too 🙂
Oriental, NC
This is a cute place to visit and has a very friendly sailing community. Lots of history alongside their cute downtown of shops and restaurants to enjoy. We especially loved The Bean, a local coffeehouse where we could bring the dogs and talk sailing with others around the town.
Swansboro, NC
A decent anchorage with a great downtown area to enjoy. It was a quick trip but gave us unique antique finds and lots of delicious restaurants to choose from. We especially loved the antique store named the Poor Man's Hole. Loved everything there!
Morehead City, NC
This marina was pretty and we got to meet Hokulea, a Polynesian Voyaging Canoe, and its crew. We were immediately fans of their vessel and were invited to join them in drinking beer and listening to them jam. Incredible people sharing a global movement in making a more sustainable world. They were lots of fun and gave us a memorable experience in learning about other types of sailing. It also inspired us to start playing Ukelele. Lucky for us, we each got one for Christmas!
We traveled around 1000 miles down the ICW and had such an incredible experience. There were so many beautiful places along the way and provided us a boat-load of experience on Tipsy Gypsy. We'll be doing this journey again at some point and can't wait to stop at new places alongside many similar stops mentioned above. It's something we'll never forget and are thankful we were able to take the time to transit this unique path.
If you'd like to see our entire travel map of stops along the ICW, visit our Interactive Travel Map, here.

Quick Update!
We're in the Bahamas right now!
We left at 11 PM and got in this morning at 9AM (10 hours). Our sail across the Gulf Stream was highly anticipated, with winds being 15-20 knots out of the Southeast. Sea state was 3-5 feet waves with occasional 6 foot waves. Decently comfortable to start but after an hour, waves were hitting our beam for the remaining 53 nautical mile trek. We had some issues with our fuel filter but nothing major. We kept high spirits but give Tharon ALL the credit for this passage due to me being ill. Customs was a smooth process but we did not receive our Pet Permit in time for the dogs.Instead, we had to make a quick trip to Freeport to get them approved before leaving West End. No worries though, we're beat! Overall, we had an adventurous passage over to West End and look forward to exploring the Bahamas for the next 90 days!!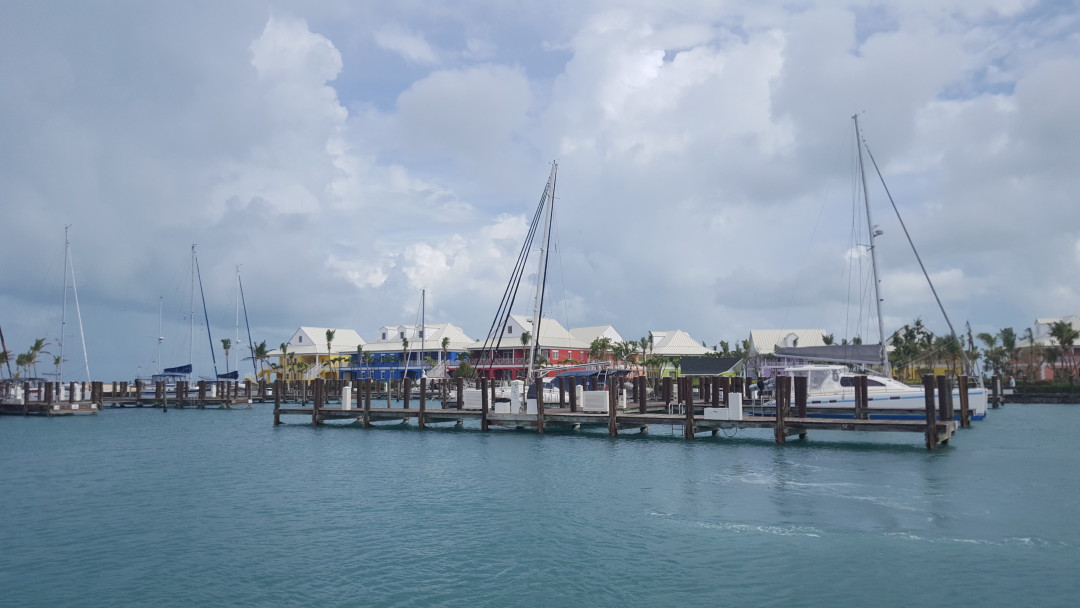 HOW EXCITING IS THAT!?!
Cheers & thanks for reading!