Our hearts go out to the victims of the recent Las Vegas tragedy. We are devastated to hear of this horror and send love to all of the families and friends effected by the shooting
---
Our trip to Las Vegas was quite magical. We've both been there a time or two but this trip was exceptional due to attending Life is Beautiful (LIB).
Life is Beautiful is not only a festival but a celebration that unites music, art, and people. It's a 3-day music festival filling over 18 blocks of Downtown Las Vegas full of passionate, unique individuals for a diverse, immersive, and beautiful experience. If you love music and attending festivals (like we do), then you should probably attend this event.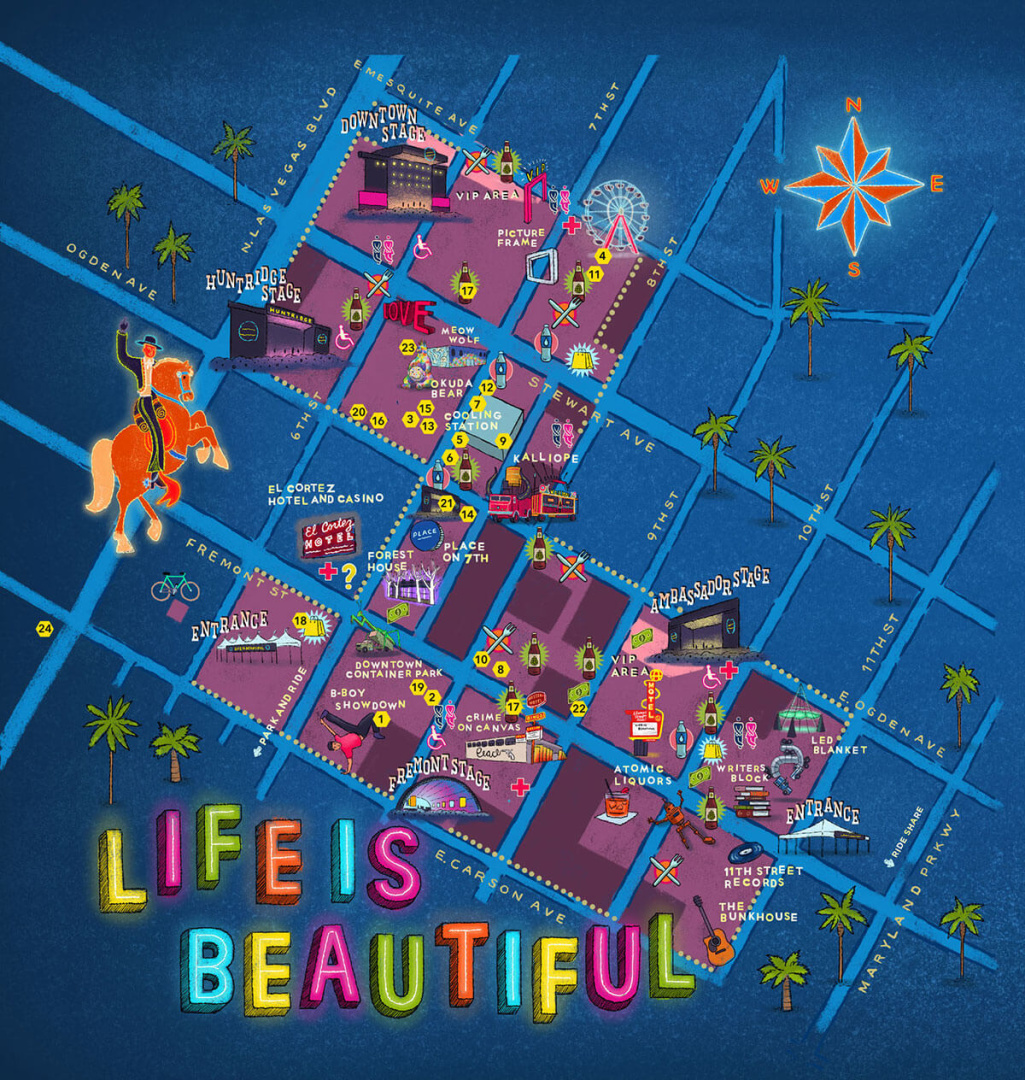 VIBE
Life is Beautiful, like many other music festivals, worked tirelessly on the overall experience of its attendees. The success of a music festival should always include an amazing lineup, easily accessible paths among stages, art installations, and of course options for basic human needs. In addition to the essentials, there are also the element of enhancements mixed in. Especially while experiencing a festival in Sin City, you'll be sure to add in a few vices alongside the Rock'n Roll lifestyle – sex, drugs, alcohol, gambling, etc.
MUSIC
Similar to their start in 2013, the lineup is an impressive mix of genres from popular artists and others about to pop. Every band with a different style in sound, style, and performance. Loved it!
My Top 12 Performances
Cage the Elephant
Muse
Gorillaz
The XX
Lorde
Big Gigantic
Milky Chance
Slightly Stoopid
Local Natives
Zhu
Pretty Lights
MGMT
These performances were the most impressive in my opinion ↑ Here's a look at the entire lineup ↓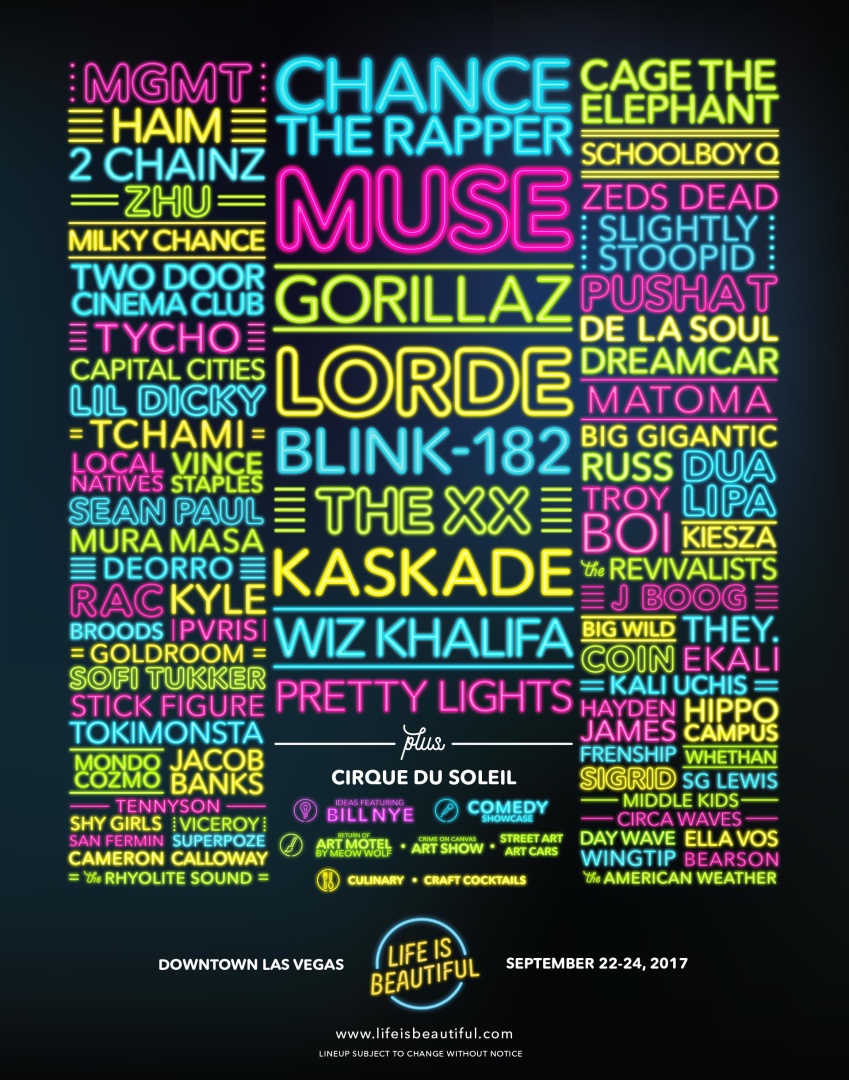 Although there are more positive vibes than anywhere else, I do have to mention that the schedule was almost too busy. There would be no way to see EVERYONE but we did try to. It allows for the crowds to disperse and even out among the popular acts but the distance between stages is enough to train for a marathon. In 2016, the festival had over 120,000 people in attendance each day and believe this year was similar, if not, higher. So you can imagine how much each show filled up and why there would need to be some overlap.
This lineup was absolutely amazing and I would definitely do it all over again!!
Here's Cage the Elephant's entire performance <3 <3 <3 Video is courtesy of MkUltra62
PEOPLE
People change from festival to festival but are always a highlight to the musical acts. From bold, revealing outfits and strange costumes to weird dancing and unique personalities; people watching is another favorite part of attending these events. This festival was no different but it did have a bit of an arrogance in the crowds compared to others we've attended.
ART
In addition to the music, we love installations, lights, and well thought out placement of artwork around the festival grounds. Life is Beautiful showcased many artists throughout different areas of the festival. From murals, sculptures, and costumes; to paintings, lighting, and decorations; you're walking into another world.
Meow Wolf is a production company specializing in immersive installations and took over all the rooms of one of the old abandoned motels within Las Vegas's Downtown area. This area was called the Art Motel and was an eclectic experience to walk through. Check out more from them on their website here –> Meow Wolf
IDEAS
Another section that maintains the overall vibe is through their thought-provoking speakers scheduled throughout each day of the festival. Bill Nye was the opening speaker and really the only one I saw but I do appreciate when festivals have more important topics to consider besides partying nonstop for three days.
Bill Nye however, was quite impressive as the festival opener and really made it feel like I was a kid again. A kid always facing adult decisions now. That's why we always do what we feel, folks. Anyways, he is the CEO of The Planetary Society and made me feel proud for us to hear him speak.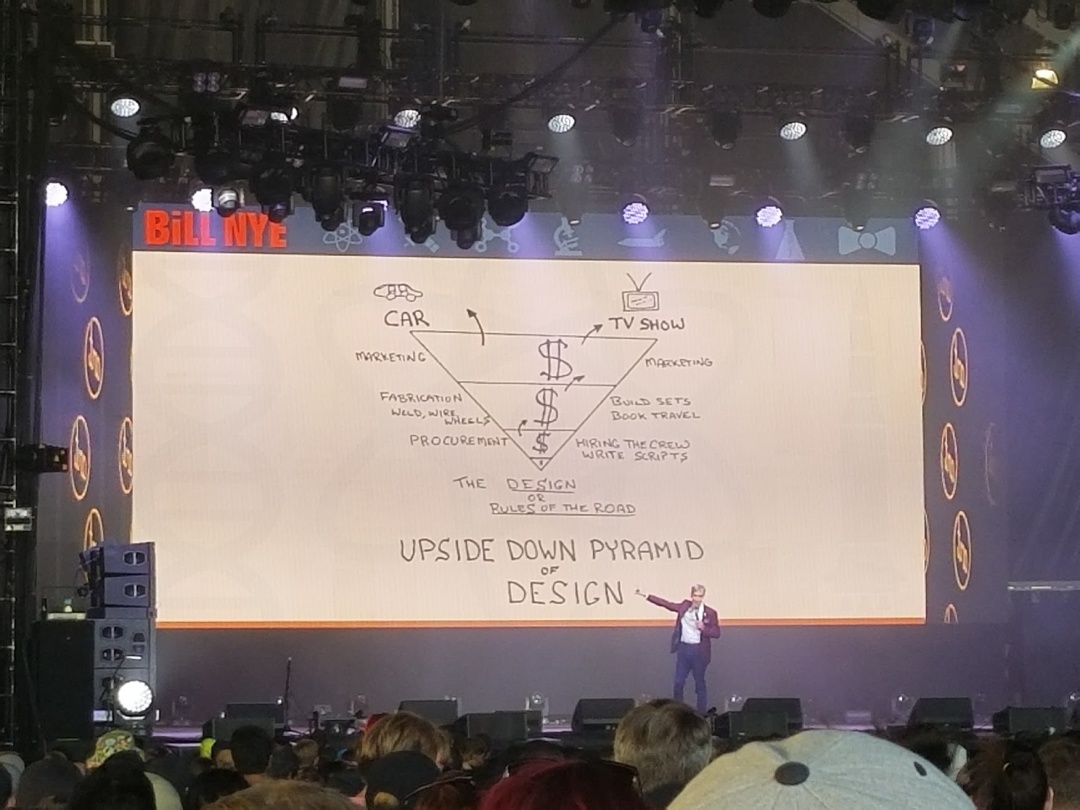 NEIGHBORHOOD
We didn't really spend too much time exploring anything outside of the festival grounds but did love the fact that many restaurants, bars, and shops were located inside. We didn't really explore much of those either. Typically we do but like I mentioned before, the schedule is a bit busier than we expected.
Here are a few that we did enjoy!
Atomic Liquors + Container Park + Oak & Ivy + The Writer's Block + Downtown Terrace
If you want to see more of our favorite spots, check out our Travel Map!!
Cheers and thanks for reading 🙂