We've stopped for the holidays and gosh it's been fun! We spent both Christmas and New Years in the Florida Keys. Marathon to be exact. It's quite the town of characters and has been a comfy spot for us to stop for a short while. Cruisers of all areas visit the Florida Keys as a crossroads to sail to surrounding countries like Cuba, Mexico, and Belize. Although we will be heading North before crossing over to Bimini, the options are enticing and will be fun options for later cruising.
Marathon is an affordable option for cruisers to live aboard full-time or visit for an extended amount of time. We decided to stay for a month to relax and celebrate the holidays but also to get a few boat projects done, work on our actual jobs, and to explore the Florida Keys. It is Tharon's first time visiting the Florida Keys and I've only visited via cruise ship for a few hours. The Florida Keys have been an amazing stop along our voyage and already look forward to returning.
It's important to mention that the Florida Keys are not in their best shape but coming together quick after hurricane Irma this past year. Many businesses are now open, services are available to cruisers, and everything is getting cleaned up. Although the streets are lined with trash and remnants of the hurricane destruction, it's wonderful to see the communities stick together during such devastation.
Maybe it's not in the best shape it's ever been but the sunsets are better than ever.
Boot Key Harbor
Staying in Boot Key Harbor has been an interesting one. It's decently protected from all directions yet your boat can really take a beating with strong winds. We've seen sunken boats from hurricane Irma and a boat break off its mooring because of a faulty cleat on their boat. Through it all, Marathon City Marina has been extremely hospitable and their moorings are brand new so there's no worries if you're tied up well.
Every morning at 9am on channel 68 via your VHF Radio, you can listen to the Boot Key Harbor Cruiser's Net. This is a daily radio show welcoming incoming boats, saying goodbye to others, and your go-to source for knowing any and all the events that are happening around the area. It's become a morning routine for us to make breakfast and listen to the net. Check it out, it's always helpful and there's trivia at the end!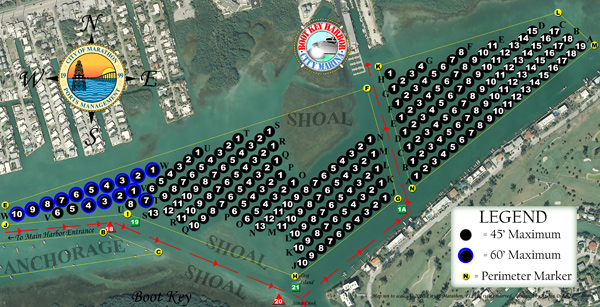 Not on a boat!? Visit Airbnb or Booking.com for any of your travel accommodations.
Things to do in Marathon
First of all, the highway (Florida State Road A1A) that runs through all of the Florida Keys is a two lane highway with LOTS of traffic each day. Walking around is a bit of a pain and I tell you this only to make sure you take extra precaution walking around in the Marathon area. While in the Florida Keys we've had long wait times to cross the road, heard a truck drive through the Overseas Pub & Grill from our boat in the mooring field, and personally had a close encounter of being hit by someone speeding out of the Home Depot parking lot. Be safe and always look twice!
Restaurants, Bars, and Nightlife
As you may or may not know, we enjoy going out to eat and drink. We of course like to cook meals on Tipsy Gypsy but part of the excitement of visiting a new area is always experiencing the food at surrounding restaurants. These are a few of our favorites but if you'd like to see more, visit our Travel Map.
Overseas Pub & Grill – Close to Marathon City Marina.Try the Stuffed Mushrooms, they're delicious!
Sunset Bar & Grill – We spent NYE here! They've got an array of different cocktails and you get to keep the glass. Trust me, you'll like the glass!
Marathon Grill & Ale House – Great beer selection! They have a nice atmosphere and the food is also very good.
Castaways – We spontaneously went here and it was great. If you like sushi, this is your spot.
Herbie's Bar & Chowder House – A bit of a walk from the marina but they had Founders Brewing on tap 🙂
The Hurricane Bar & Grill – Very affordable lunch menu! Went for the Seven Seas Cruising Association meet-ups.
Key Fisheries – This was definitely a favorite spot for it's fresh caught fish and especially their Stone Crab. YUM.
Florida Keys Steak and Lobster – From the outside, you wouldn't think this place would be so good. Well, it is.
Burdines Waterfront – Try their deep-fried Key Lime Pie. It's one-of-a-kind.
Porky's Bayside – "It was good, I thought it was cool." – Tharon Rodriguez
Entertainment & Special Events
We've been very active in the Florida Keys. Each day we've made an effort to go kayaking when it's been nice out and have fallen in love with our new Stand Up Paddle Boards from Newport Vessels. If you'd like to rent a kayak or SUP while you're here, visit Captain Pips. If you'd like to get in the water, plan a day at Sombrero Beach or a take a boat to Sombrero Reef for some snorkeling. There are also plenty of fishing charters around the area if you'd rather spend your time catching your dinner and most restaurants will prepare your catch for a fee.
In addition to being active on the water, we also walked over 10,000 steps each day and enjoyed the free events in the Marathon Community Park. There is Yoga in the Park on Mondays, Wednesdays, and Fridays and Adult Softball on Tuesdays and Thursdays. As long as the weather is sufficient, these activities go from 10am-11am. Please also consider donating $5 per yoga class.
While you're in the Florida Keys, be sure to visit the Turtle Hospital to learn about all the different types of turtles and visit ones being rehabilitated to return to their natural habitat. Another relaxing area to visit is Crane Point Museum & Nature Center. There is a nice museum and provides a relaxing mile loop to take in the beautiful of Florida's wildlife. If you want to hang around for a while, bring a hammock and a book to make a day of it. Admission is $15/person but a yearly pass can be purchased for $30/person in case you may visit more than once during your visit.
The Florida Keys Celtic Festival was the only major event we experienced and was a lot of fun with sheep herding demonstrations and Celtic Music all day. We spent Christmas and New Years Eve on the boat but there are of course plenty of fun events to participate in. If you'd like to see what special events are happening currently, visit the Marathon Chamber of Commerce.
Sailor Amenities
Boot Key Harbor is the central spot for any needed services to take advantage of before making any upcoming passages. If you need anything, use your boat name while listening to the net or use some quick links I've provided below.
Transportation – KWTransit provides a daily bus schedule, Native provides $5 taxi services, and Enterprise is close if you'd rather rent a car. We don't mind walking but bikes are complimentary at the marina too!
Groceries – Publix is a one mile walk but we highly recommend Paradise Produce for delicious produce and farm-fresh eggs. Overseas Liquor Store is good for alcohol provisions
Boat Supplies – West Marine is the best option as it is only a one mile walk but there are other local shops with varied hours of operation.
Hardware/Auto – Home Depot is a half mile away but Napa Auto Parts is 4.6 miles away.
Post Office – Marathon City Marina allows you to have mail sent there and also has outgoing mail. If you need an actual post office, there is one nearby as well.
Propane Fills – Chevron is a close walk from the city marina and fills propane.
Diesel/Gas – Chevron was our option again for filling a gas tank up but we'd suggest Burdines Waterfront as it's a convenient stop before leaving the harbor.
Water Fills – Marathon City Marina has space for your boat to fill up with water or at the dinghy dock, you're welcome to fill jerry cans. Water is $0.05/gallon. If you'd rather have water delivered to your boat, you can contact Bob from Waterworld on channel 68. $30/100 gal
Pump-Outs – Free pump-outs at Marathon City Marina. A specific day is set for each row of moorings, so convenient!
Library – Monroe County Public Library
Movie Theater – Marathon Cinema + Marathon Community Theatre
We loved living in this area for a month and hope you enjoy your time in the Florida Keys! Cheers and thanks for reading 🙂
This blog post is sponsored by Newport Vessels. Need a new dinghy? Use Code: SVTIPSYGYPSY for 10% off –> www.newportvessels.com
View our other partners here. Want to partner with us? Email us – hello@svtipsygypsy.com
Interested in looking through our other Travel Guides? Visit them here –> Travel Guides