While our visit to the Florida Keys is coming to an end early next week, we're excited to share with you two blog posts about the FUN city of Key West. Read this one first to learn about our fun trip over there and then this one –> Florida Keys – Ernest Hemingway House, for an inspirational feel and lots of cute kitties.
Although we would have liked to put together an entire guide to visiting Key West, we only enjoyed a random day trip there and would not be enough to give you ALL the details. Originally we had planned to sail down there but the weather in the Florida Keys is not consistent and with the mooring field completely exposed to the ocean, we figured we'd keep Tipsy Gypsy snug on its mooring in Marathon. It would be better for the long haul as we're also prepping for our trip over to the Bahamas and Tharon had to travel back to Michigan for work. Anyways, here's a closer look at some of the BEST places to visit while in Key West.
From Marathon we took a bus via the KW Transit system. It cost us $4 each and gave us a front row seat for the scenic drive to the the United State's Southern most city.
The bus was not filled by any means but did have an eclectic mix of tourists and locals scattered between the variety of seating options and exiting off at different points along the journey. I took video and pictures as Tharon played on his phone. Keeping ourselves busy for the most part and researching where we would go for the day. We heard plenty of suggestions throughout our time around Marathon but didn't think much on what we would actually do when we got there. It was a random trip after all. We drove across long bridges, through multiple other keys, and before you knew it, we were there!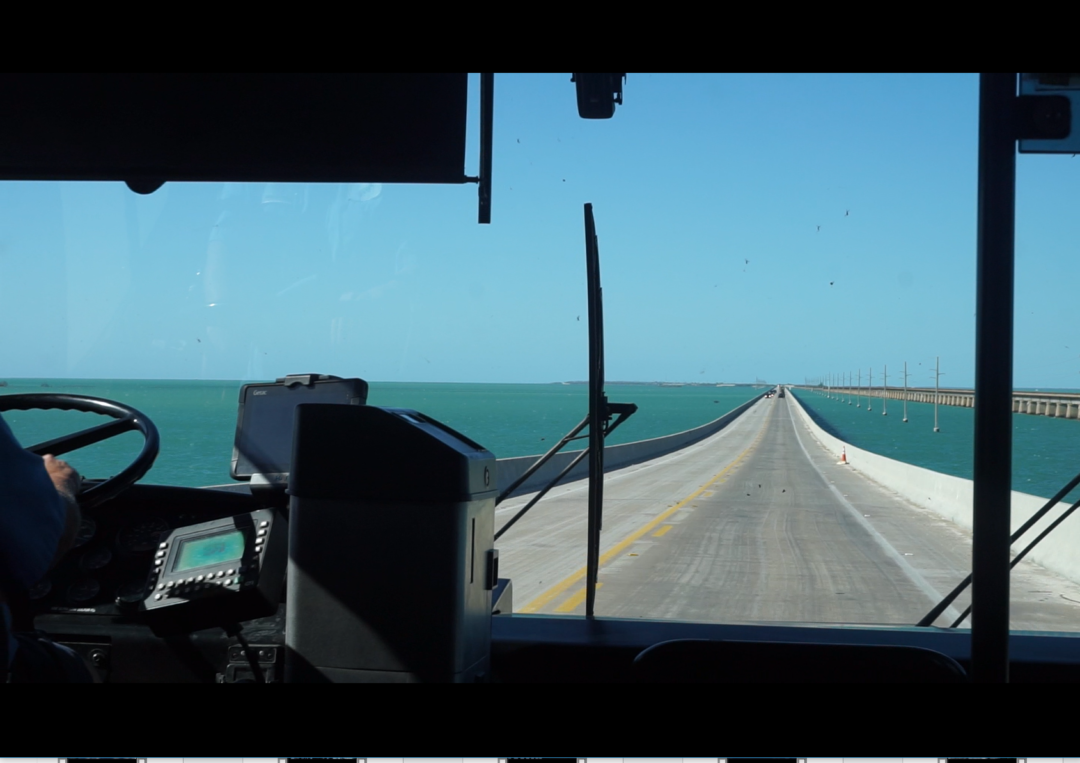 Our first stop was to The Waterfront Brewery. We of course love beer and a favorite activity is to always visit breweries local to the places we visit. I believe this is the ONLY brewery in Key West but may be wrong. They offer flights but I went for their Snipes (Belgian Blonde) while Tharon enjoyed a Crazy Lady (Blonde Ale). Unfortunately they didn't have any IPAs on tap but gave us great service and the beers we did drink were a decent start to the day. It was at least noon on a Saturday. If you're interested in more of the beers we drink, check out my Untappd.
As we continued walking the docks, still unsure of where we were going or what we were doing, we made our way into Papa Pilar's Distillery. We had tried this rum plenty of times at the United States Sailboat Show but they do offer tours around their distillery and have a nice gift store to shop from. The extent of our visit was to look around the goods, say no to a tasting, and skip out on the $10+ tour. I guess we were looking for a free tour and cocktails rather than straight rum. Key West can get expensive so it's important to prioritize where your money goes. Especially being sailors consistently on a budget.
Next up, Sloppy Joe's! A staple to Key West, this bar is wild almost any time of day. The place was packed and the band was just getting ready to play. If you're ever curious at what is happening at Sloppy Joe's RIGHT NOW, check out their collection of live cams, here. We each enjoyed a couple of drinks there and loved people watching and listening to the live music. I especially loved their Papa Dobles made with Bacardi Light rum, grapefruit juice, grenadine, splash of sweet & sour, club soda and fresh-squeezed lime. Apparently it was one of Hemingway's favorite drinks, so the server decided to call me Mrs. Hemingway the entire time and I loved that. If you're more into beer and a calmer atmosphere, you might enjoy Joe's Tap Room, right next door.
It was time for food. There are so many amazing places to enjoy around Key West but we knew we wanted affordable tacos and decided on Garbo's Grill. They're located behind Grunt's Bar in a beautiful patio setting with their food being made out of an old renovated Airstream Travel Trailer. Their menu consists of tacos, burritos, hot dogs, and hamburgers. Sounds simple but their toppings are much more complex and also provide spicier options for each menu item. This place is DELICIOUS.
We didn't want to walk around much now that our bellies were full, so we decided to check out Blue Heaven for their happy hour specials. Their bar is outside in the midst of eclectic decorations and among roosters and cats roaming around. It was a very relaxing place but didn't stay long to take a break from drinking and visit the Hemingway House. We had a great time walking around the Hemingway House and visiting with all the cats. Read all about that experience, here. We also took time to get pictures around the Southernmost Point but because the line was ridiculously long, I took pictures of random people instead. After we were done being tourists, we went back to Blue Heaven to listen to the musicians playing on the patio and chat with some of the locals.
Our bus would pick us up at 8pm so we decided to get closer to our stop and grab some appetizers at Blue Mckaw before hitting the road. The restaurant and bar were bustling with people enjoying more live music and chowing down on all their good eats. We met great people all around us and before ya knew it, we left Key West.
Our day trip to Key West was by far one of our best days in the Florida Keys. If you're looking for a getaway, come down for a visit 🙂
Cheers & thanks for reading!
Want to partner with us? Email us – hello@svtipsygypsy.com View our partners here.
Enjoying our blog and vlog? Buy us a beer via PayPal, Become a Patron, or Get us a gift on Amazon