Islamorada is a beautiful village made up of six keys and known for their coral reefs. We passed by on the way to Marathon but officially decided to take day trips via car and anchor out in Matacombe Bight for a few nights too. When driving through Islamorada, you'll notice well-put-together shops, multiple opportunities to snorkel/dive, and some memorable stops for drinking beer. It's a great place to vacation with friends or if you're like me when visiting such beautiful areas, it might become a place you consider living in for a while.
We didn't get distracted by staying in Islamorada too long though. As liveaboard cruisers, it is very possible to get stuck in a place too long. Marathon is a great case and scenario. We love Marathon but are very happy we were able to escape the conveniences it provided and outrun the velcro it catches you with. That's the Florida Keys though. Beautiful, distracting islands, with some of the best people you'll ever meet.
Anyways, back to Islamorada. When it comes to hurricane damage, these keys saw their fair share but cleaned it up faster than most other areas in the Florida Keys. Roadside, their buildings are pristine with their landscaping just as beautiful as ever. They have great accommodations all over their various keys with multiple restaurants and night life to enjoy. From there, you'll have great places to shop and some special events scheduled throughout the year. You will NOT be bored in Islamorada but if you do, Key West is only a two hour drive 😉
Matacombe Bight
We anchored in Matacombe Bight for a few days to enjoy seclusion from the busy, Boot Key Harbor. The bight is surrounded by multiple islands, providing decent wind protection from most directions. Our anchorage was circled by crab pots and shallow grassy areas for sea turtles near the wetlands area. It's a great place to kayak, stand-up paddle board, or dinghy explore. Dolphins play around the crab pots daily with little boat traffic, and absolutely stunning sunsets every night.
Our favorite part of dinghy exploring was traveling through the channel of mangroves to Robbies each day. This allowed us to get off the boat for a while, walk the dogs, and have a drink at the end of the work day. Honestly, if it wasn't for Robbies, I don't know where we would have taken the dogs out. Plus, it's an awesome place to check out while in Islamorada!
Robbies has their docks covered in pelicans due to the excitement of their tarpon-feeding demonstration. Although most times, the pelicans will steal the fish before the tarpon would turn up. Then at other times during the day, a couple manatees would stop by to instead be the center of attention. Quite a lot of fun wildlife around Robbies!
Here's a funny video of Elwood scaring all the pelicans away.
Another great aspect of Robbies was that we would stop by each day to walk around their craft stands in the parking lot and relax with their fantastic happy hour specials. The dogs loved getting attention at the bar and I loved having unwind time with only Tharon for a change!
Islamorada Beer Company + Florida Keys Brewing
Although Tharon wasn't able to join me, I also had an enjoyable time drinking beer in Islamorada. There are two breweries to visit and they both offer an impressive array of flights. Alongside their awesome beer, the service was great and gave me an awesome day to explore delicious beer. If you'd like to see my ratings for any of the beers I tasted, visit my untappd.
The first place I stopped at was Islamorada Beer Company. With their bright blue and yellow building, it's hard to miss where they are located on Overseas Highway. They also have a taproom in Fort Pierce if you'd rather visit them there though. Their outdoor area is pleasant and their main seating area includes two bars, bar games, and a large area for shopping their swag.
Islamorada Beer Company already does some distributing so I had tried their staples around Marathon and went with their small batch beers while at the taproom. All of which were delicious!
The other brewery I stopped at was Florida Keys Brewing Company. This place has an eclectic feel and a large variety of beers to choose from. Although I wanted to try ALL the beers, I stuck with a pint of their Iguana Bait Honey Hibiscus Kolsch due to the short amount of time I had left before having to leave and drive safely back to the anchorage. I'm already excited to return for more!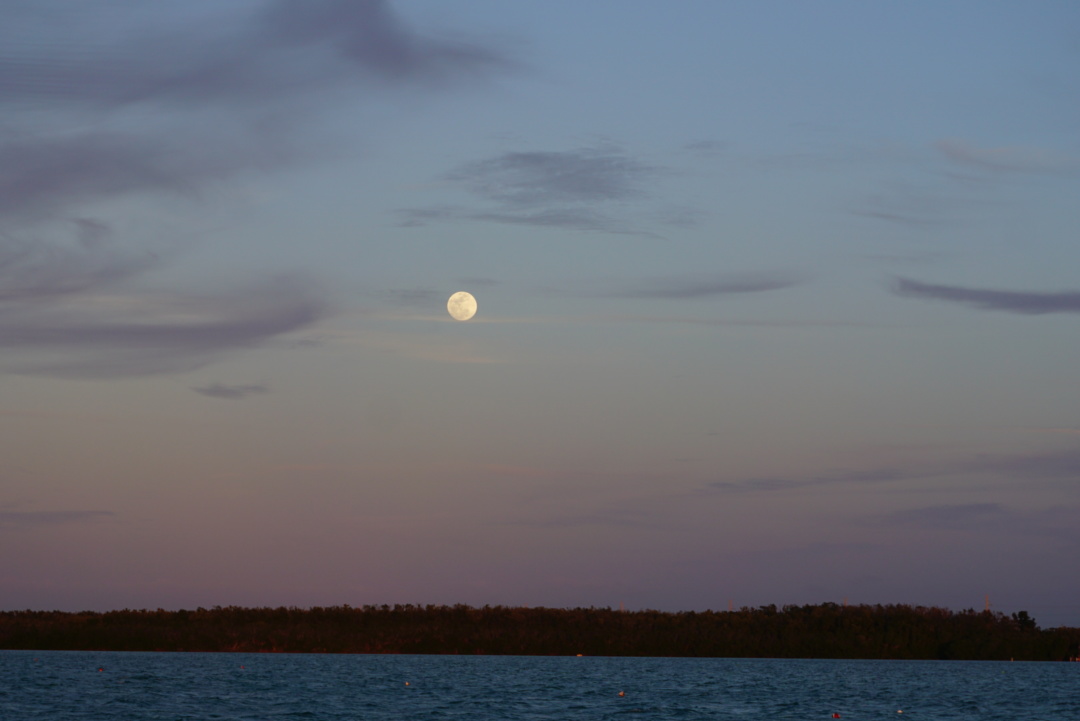 From there, we enjoyed January's Super Blue Blood Moon and said our goodbyes to the Florida Keys within the next couple days. We're excited to return and explore more of Islamorada again soon!
If you're interested in reading more about our Florida Travels, check those posts out here –> Florida Blog Posts
Enjoying our blog? –> Buy us a beer
Cheers and thanks for reading!