We're back in the Bahamas and it feels GREAT. The first stop along our way through this time is to Bimini, a beautiful chain of islands only a short sail from Miami or in our case, the Florida Keys. This post will share with you our journey across the Gulf Stream and give you an idea of what to do in Bimini when you decide to visit.
Gulf Stream Crossing
We started our sail just after midnight, February 2nd from Rodriguez Key outside of Key Largo, Florida. The weather would be too severe to travel through at other times during that week, so we left with confidence while the winds were low and the swell was down. Though the winds were straight on the nose, we accepted the fact that we'd have to motor the whole time. Before we left, another sailboat asked to join our path out of the Hawks Channel and across the Gulf Stream in the Atlantic Ocean. We hadn't had company across before but it was nice to have someone else nearby in case anything went wrong along the passage.
Our trip would be 75 nautical miles to Bimini. Since we wouldn't be able to sail, we would motor at 7 knots (more like 6 knots due to the growth on our hull) and get pushed by the Gulf Stream 2-3 knots for additional speed. Besides a rogue fishing boat at the beginning, our trip was uneventful and boring. Kind of what you prefer for such a voyage. We saw cruise ships and freighters at night and Portuguese Man-O-War and flying fish at dawn. The sunrise was a highlight and an exact reverse of the previous night's sunset. Upon making it into Bimini's harbor, it had taken us a total of ten hours to arrive.
Read these two other posts if you want to know what it takes to get ready for such a trip –> Preparing for a Gulf Stream Crossing to the Bahamas + Check In to the Bahamas
Bimini
Bimini has two main islands, North Bimini and South Bimini with surrounding reefs, rocks, and smaller cays. Alice town is the main settlement with The King's Highway and Queen's Highway as the main path through the 7 miles of North Bimini. Because of the popularity and close proximity to the states, this area is well developed and filled with tourists exploring the beautiful beaches and plentiful fishing grounds.
Restaurants & Groceries
While visiting Bimini, you'll notice many places to enjoy food and beverage. We've been fishing most days and going out less and less but still enjoyed a few places along our visit. We especially enjoyed seeing all the local grocery stores and bread bakeries. We visited many of them to get an idea of what sort of options each had. Our favorites ended up being Nate's Bimini Bread, Sue & Joy's, and Brown's Grocery Store.
While we didn't eat out too much, we did enjoy food and beverage at Resorts World and at the Luna Beach Club. Both are quite pricey but with a really fun atmosphere to enjoy off the boat. We also watched the Super Bowl at Bimini Big Game Club but the service was only so-so.
If you're a fan of ceviche, you may enjoy Conch Salad. There are multiple areas to enjoy in Bimini but the best spot is Stuart's Conch Salad Stand. Personally, I don't enjoy conch unless it is tenderized. You do have to try it though, it's a staple of the Bahamas!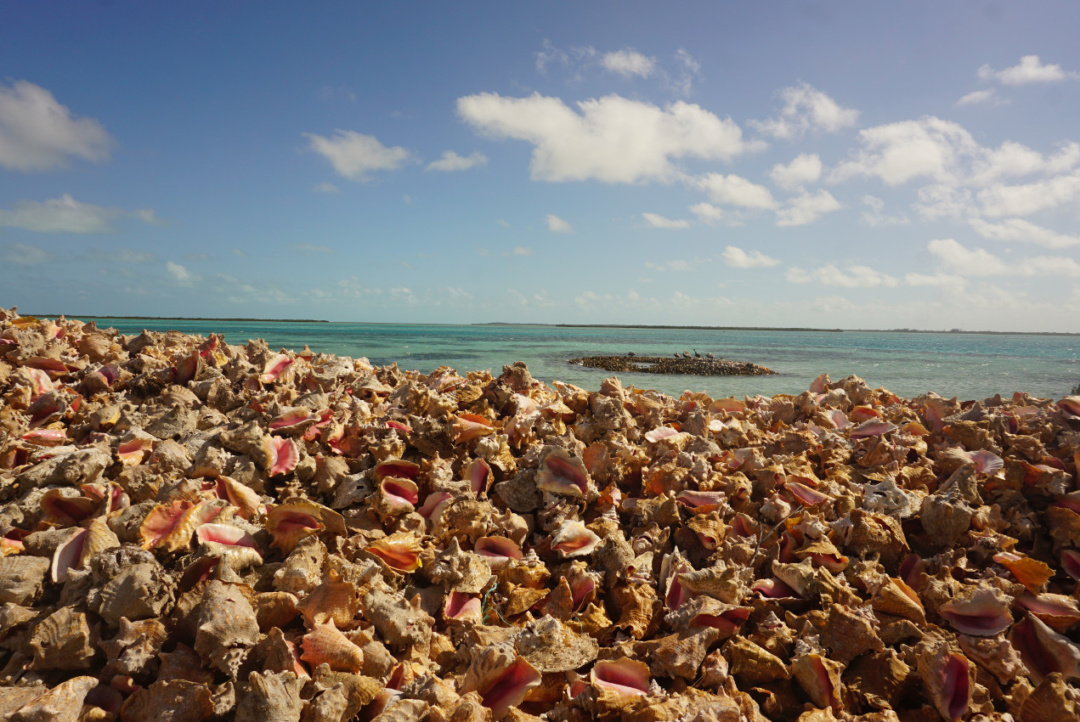 Things To Do
I'm so glad we crossed over to Bimini this year because they have some of the most beautiful beaches! Almost daily, I walked the dogs to Luna Beach and also took a day to myself to relax and sunbathe there. There's also a luxe beach in front of the Hilton at Resort World. Each of the beaches has an array of activities to pay for. They have jet skis, fun water trikes, banana rides, etc.
If you enjoy excursions, Bimini Undersea is a great area to know the best areas to scuba dive or snorkel. They also have excursions to swim with dolphins, interact with hammerhead sharks, and feed stingrays. If you're really into sharks, you should also check out the Shark Lab. They do research to advance knowledge of marine life and conservation. A fun piece of history is Bimini's Healing Hole, an area of fresh water within the mangroves that explorers deemed to have healing effects. You can schedule a tour to visit them with Bimini Healing Arts. I'd suggest a guide, we never found it via our own dinghy.
Although we never found the Healing Hole, our favorite water activities were exploring the mangroves via our dinghy and spearfishing. We only speared a couple Mangrove Snappers but our friends speared lobsters almost every day. Another favorite thing to do in Bimini is to head to the Casino and try your luck at the slots or use your skills to make some money at the tables. There were some big winners while we were there!
Accommodations + Transportation
It's so nice to travel via sailboat because when we get to a new place, we already have our home to enjoy and transportation basically covered with our dinghy and scooters.. We anchored right next to Resort World and gave us plentiful accommodations while we were there. The prominent spots to stay at are Resorts World Bimini and Marina and the Hilton at Resorts World.
Another option is to search Airbnb for a place to stay. They definitely have more affordable options and plenty cute vacation getaways. If you want $40 off, search via this link –> Airbnb
As for transportation, you'll first need to figure out how you'll get here! You can come by boat or by seaplane. I'd suggest the latter because it sounds like such a unique way to travel. We saw seaplanes take off all day, every day. So cool! While you're here, the island is short enough to walk around but most people rent golf carts to ride around in.
Gun Cay
While not officially part of Bimini, I'm still including this area because it's only a short sail away from Alice Town. It was quick and easy to get to and had great views of the S.S. Sapona. We had a great couple of days anchored out at Honeymoon Harbor. There's plenty of great places to snorkel and beautiful beaches to relax on. This is also where you'll be able to feed the stingrays. Our favorite part was enjoying a bonfire with friends, beach combing with hermit crabs, and enjoying a gorgeous sunset.
We had an awesome time in Bimini and look forward to returning again someday to explore more. If you have more suggestions, please let us know in the comments!
Cheers and thanks for reading!
Continued Reading – Other Bahamas Posts
Enjoying our blog? Buy us a beer –> Here